Cornwall's Night Market Returns This Friday
August 17, 2023
Cornwall Ontario – Cornwall's Night Market is set to return with another one-of-a-kind shopping experience in Downtown Cornwall on Friday, August 18th.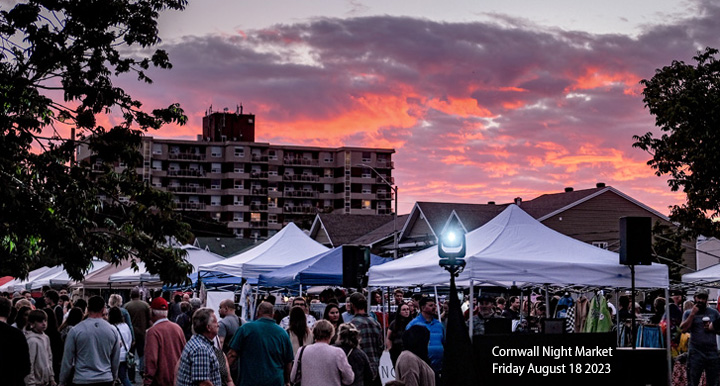 The market is set to take over Downtown Cornwall from 4 pm to 10 pm with over 50 vendors from Cornwall, SDG Counties, Ottawa, Montreal and Toronto offering a variety of products and creations for sale. They'll be joined by a variety of Downtown businesses who will be staying open late to greet shoppers.
Last year's inaugural Night Market was a huge success with an estimated 5,000 shoppers stopping by over the course of the evening.
"We're hoping this year's Night Market will be even bigger," said Dayna Gunn of Downtown vintage shop DGvintage, the organizer of the event. "We have a great mix of vendors this year and there is sure to be something unique to for every shopper."
A live DJ will be playing tunes throughout the night and the dozens of vendors will be set up around the corner of Pitt and First streets.
Downtown businesses
Downtown businesses staying open late include:
Echo Trends
The Happy Popcorn Co.
Life's Little Pleasures
EK Market
EK Studio
Carrots N' Dates
Kid's Korner
Tickle Your Fancy Gift Shop
Floral Expressions
Love And Lee
Night Market vendors
The Night Market vendor list features a great mix of over 50 local and out-of-town shops and artisans waiting to be discovered. Wares range from vintage clothing to antiques to art and local food.  Cornwall Tourism will also be at the Night Market! Come and say hello and find out about all of the great things that there are to see and do in Cornwall and area!
Additional Info
For updates and additional information on the Night Market, make sure to check out the Night Market Facebook event page and the Night Market Instagram account.
Categorised in: Business, Community, Environment, General, News