Cornwall's Waterfront Trail offers exceptional cycling experience
September 8, 2020
Cornwall Ontario – With interest in cycling rolling to new heights in light of the pandemic, a growing number of outdoor adventure seekers are turning their sights — and wheels — onto the picturesque Waterfront Trail in Cornwall.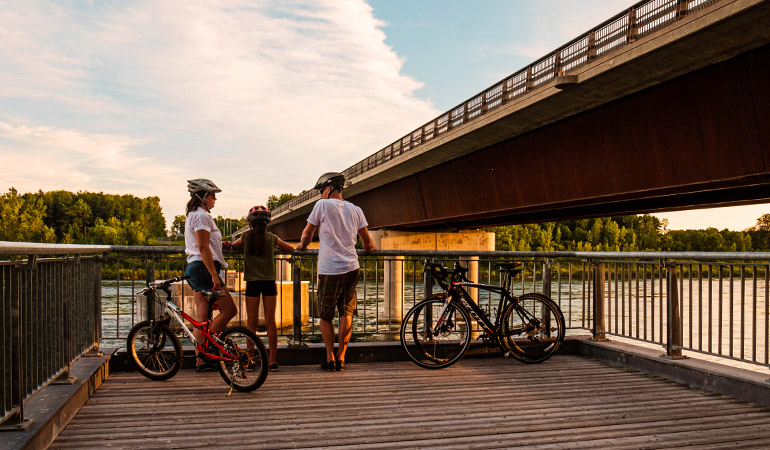 The dedicated off-road trail runs directly along the St. Lawrence River the entire length of the city, some 18 kilometres. It continues west for another 25 km to Upper Canada Village near Morrisburg. That's over 40 km of cycling right along the river's edge.
"The Waterfront Trail in Cornwall has everything cyclists and cycle tourists are looking for — non-stop riverfront views, natural scenery, a fascinating history and great places to stop for a bite and drink," said Marlaine Koehler, Executive Director of the Waterfront Regeneration Trust, the organization that oversees the 3,600-km Great Lakes Waterfront Trail.
"For families looking for a fun trail experience, the Waterfront Trail in Cornwall is the perfect destination."
Along with the trail, Cornwall's great location — only an hour's drive from Ottawa and Montreal — and amenities make it an ideal destination for cyclists in search of either a fun day trip or an overnight experience.
Park and ride
The Cornwall Civic Complex offers the perfect starting point for a one-day cycling adventure. Located at 100 Water Street East, the facility provides ample free parking just steps from the Waterfront Trail. It's also steps away from the many trendy shops and restaurants along Pitt Street in Downtown Cornwall, a perfect place to wrap up a ride with a nice meal and a cool drink on a patio.
Heading west, cyclists can enjoy great views of the river while rolling directly by numerous landmarks and attractions like the Cornwall Community Museum, the historic Cornwall Canal, the R.H. Saunders Generating Station and more. The trendy Rurban Brewing, Cornwall's popular craft brewery, is just a short detour off the trail, on Cumberland Street.
Adventure awaits further west with the renowned Upper Canada Village and the majestic Long Sault Parkway, a series of islands connected by causeways and bridges. The parkway was created during the massive St. Lawrence Seaway and Hydro project of the 1950s and several villages were inundated as part of this earth-changing project. The stories of these communities live on at the Lost Villages Museum, a beautiful collection of heritage buildings right along the Waterfront Trail just west of Cornwall.
Cycle and stay
For those in search of an extended adventure, the Ramada by Wyndham and Best Western Parkway Inn & Conference Centre are making it easy with a special Cycle & Stay Package. The offer includes a room for $139.99 per night along with a $40 dinner voucher and complimentary grab and go breakfast. Best of all, both are right near the Waterfront Trail.
Another overnight option is Chesley's Inn in Downtown Cornwall, recently named eastern Ontario's best bicycle-friendly business by Ontario by Bike. The historic inn was built in 1814 and is just a block from numerous restaurants and shops as well as the Waterfront Trail.
In addition to the Waterfront Trail, there are other cycling routes to enjoy in Cornwall for those seeking an extended stay. There's a 25-km loop route around the city, while dozens of other rides of various lengths can be found through the new SDG Cornwall Adventure Club. These routes combine cycling along the waterfront as well as quiet county roads in SDG Counties surrounding Cornwall.
The St. Lawrence River Lifestyle group on Strava is another great resource for cyclists searching for rides in the area.
Bike rentals
For those who prefer to leave their bikes at home, bike rentals are available at Marina 200 along Cornwall's waterfront (just east of the Cornwall Civic Complex). Bikes are available daily from 8 a.m. to 6 p.m. and can be reserved by calling 613-932-8301.
Bike repairs
For travelers in need of a tune-up or last-minute accessories before heading out, there are two bicycle shops in Downtown Cornwall that are available to service all needs – Bicycle World at 150 Pitt Street and Total Cyclery & Sports at 241 Pitt Street.
Get rolling
For additional information, including cycling maps, directions and more, visit Cornwall Tourism: