Cotton Mill Rehab Opens New Clinic
October 1, 2019
Cornwall Ontario – A new clinic has opened up in the historic Cotton Mill district, and it has quickly established a large and loyal customer base.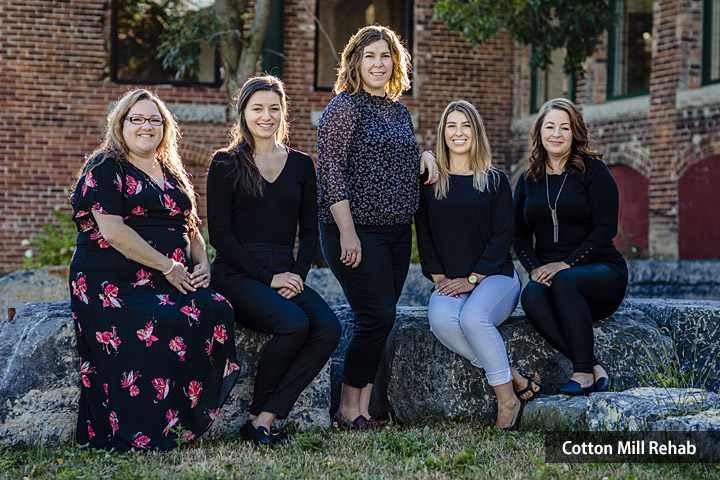 Cotton Mill Rehab is multidisciplinary health clinic that occupies 1200 sq.ft. in a renovated heritage mill building overlooking the St. Lawrence River. Services include physiotherapy, chiropractic care, massage therapy, personal training, and group fitness.
A team of health professionals, namely Sarah Belmore, Dr. Sara Brand, Melissa Andre and Sarah Despatie, had been working together for 3 years before starting the new clinic in August.
"Our team is truly passionate about our professions, and helping our clients recover as best as possible," says Sarah Despatie, owner of Cotton Mill Rehab. "To us, this means remaining current with best practices, advancing ourselves by taking new courses and perfecting our skills, and working with our clients individually."
Services and treatments at Cotton Mill Rehab are completely one-on-one. Clients spend the entirety of their session with the health care provider, who can then offer personalized and private care. Team members have advanced training in numerous techniques, including pelvic floor physiotherapy, concussion therapy, treatment for vertigo, acupuncture, graston, the Webster technique, cupping, therapeutic taping, custom orthotics, running and gait analysis, functional movement screens, and more.
The team at Cotton Mill Rehab have strong connections to Cornwall, with three members having attended Holy Trinity Catholic Secondary School at the same time.
"Cornwall is home! I was born and raised in Cornwall, and was proud to return home upon graduating university to give back to this city and community that has given me so much," says Ms. Despatie. "There is a sense of community here and many benefits that I would not find anywhere else."
Cotton Mill Rehab is located in the Weave Shed building of the historic Cornwall Cotton Mill, located at 113-705 Cotton Mill Street. The Clinic is open Monday through Thursday from 9am to 6pm, and Friday from 9am to 5pm. The clinic can be reached at 613-362-1180 or online: