Crush Lane Expands its Boutique in Downtown Cornwall
October 18, 2018
Cornwall Ontario – When you walk into the Crush Lane boutique on Pitt Street, there is a tangible energy in the air. From the music to the neon sign to the welcoming staff, the feeling is that you have arrived someplace special.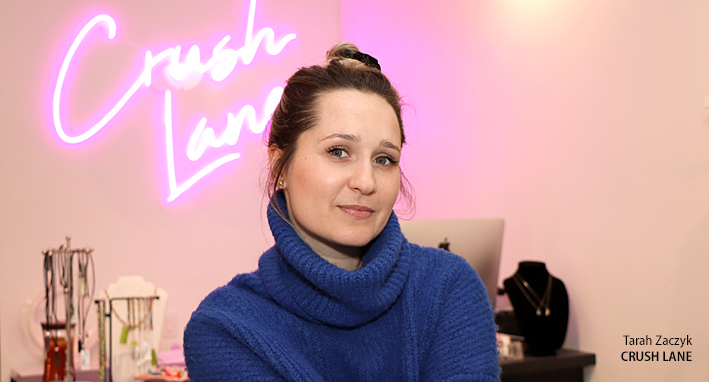 "We wanted to recreate the atmosphere of a high-end, urban boutique in a metropolis," says Tarah Zaczyk, the founder of Crush Lane. "But without the attitude!"
Crush Lane has doubled its footprint in Downtown Cornwall, driven in large part by increasing demand for Ms. Zaczyk's designs. A certified goldsmith, the young jewellery designer specializes in fashion forward jewellery, predominantly in sterling silver. Almost all of the jewellery is made right in the Cornwall shop.
Crush Lane's collections are inspired by pop art, fashion, music and influenced by interior design. With names like Vixen, Vogue, Lovergirl, Nearly Naked and grunge, there is something for everyone.
"Crush Lane is more than jewellery, it's a lifestyle and an experience," says Ms. Zaczyk. "We believe jewellery is a form of self-expression and our contrasting collections allow anyone to choose which style they identify with to express their individuality."
Ms. Zaczyk was introduced to the retail jewellery business with a part-time job at a local jewellery store while in high school. It ignited a dream that would take her to enrol in the George Brown College's Jewellery Arts program. She would work in a couple of high-end boutiques before taking the leap to return home and start her own small business.
She worked with Candy Pollard of the Cornwall Business Enterprise Centre to refine her business plan and she was ultimately accepted into the Starter Company Plus program.
"Tarah is a prime example of what happens when you combine talent, vision with a well executed business plan," says Ms. Pollard. "In a very short period of time she has moved from a home-based business to a pop-up shop to a full retail store."
Crush Lane also offers a line of accessories and home-décor, including items such as wall hangs, jewellery stands, lamps and even succulents and cactus planters.  Many of the items feature a vintage vibe – using re-purposed, re-loved or handmade elements.
Crush Lane is located at 105 Pitt Street and is open Tuesday through Saturday. You can connect with them online at: