Cycling in the spotlight at Montreal Bicycle Show
February 22, 2019
Cornwall Ontario – Tourism officials will be promoting cycling in and around Cornwall this weekend at the Montreal Bicycle Show.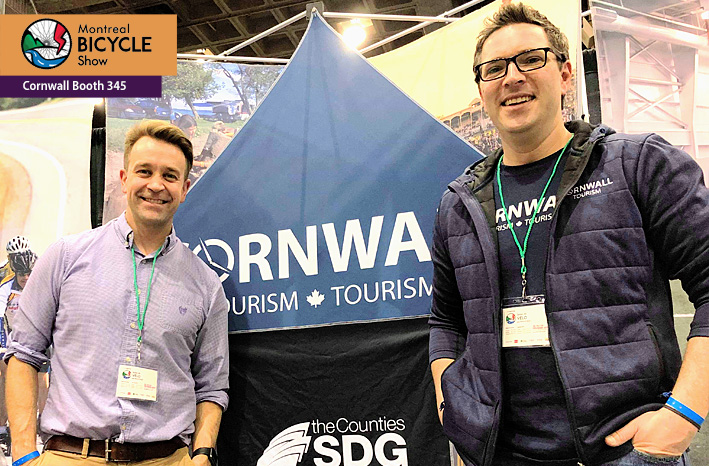 Cornwall Tourism and SDG Tourism will be exhibiting at the annual show, which takes place at Place Bonaventure and runs from Friday, February 22nd to Sunday, February 24th. The Montreal Bicycle Show is the largest consumer Show in Canada that is dedicated exclusively to the wonderful world of bicycles and cycling tourism. Upwards of 20,000 consumers are expected to attend the show over the course of the weekend.
"Cornwall's Waterfront Trail and cycling network is extremely popular with visitors and there is a great opportunity to attract even more tourists from Quebec and beyond," said Kevin Lajoie, Tourism Coordinator with Cornwall Tourism.
The city and region has seen an increase in cycling activity over the past number of years, fuelled not only by special events, but also be cycling groups choosing to have day trips. Cyclists especially like the dedicated bike trails that make up the Waterfront Trail which traverses the entire region along the St. Lawrence River. Other cycling routes connect hamlets and rural attractions to urban centres along scenic roadways.
"In recent years, cyclotourism in SDG has been extremely popular. Our goal at the show is not only to market SDG as a great place to cycle, but to learn what cyclists are looking for when choosing where to pedal," said Nick Seguin, Tourism Coordinator with SDG Tourism.
One of the more popular resources for cyclists is the South Eastern Ontario Cycling Map, which is a bilingual fold out map showcasing cycling routes in Cornwall, SDG and Prescott Russell. Copies of the map will be handed out at the show.
The Montreal Bicycle Show runs on Friday, February 22nd from 12 pm to 9 pm, Saturday, February 23rd from 10 am to 6 pm and Sunday, February 24th from 10 am to 5 pm. Cornwall and SDG are located at booth number 345.
Cycling in Cornwall
More information on cycling, along with links to downloadable and/or interactive online maps is available on CornwallTourism.com
About the Waterfront Trail
Stretching over 3,000 km, the Waterfront Trail is a route connecting 140 communities and First Nations along the Canadian shores of the Great Lakes and St. Lawrence River. The trail consists of both on-road and off-road facilities.
Cornwall's section of the Waterfront Trail is a dedicated multi-use trail that spans the entire waterfront, offering stunning views of the Cornwall Canal and St. Lawrence River – completely off-road. The Trail connects a number of attractions including the OPG Visitor Centre, Cornwall Community Museum, Lamoureux Park and the Aquatic Centre.
The trail continues to the west and east, connecting Cornwall to the communities of South Dundas, South Stormont, South Glengarry… and beyond.
Free parking for trail users is available at the Cornwall Civic Complex, which also provides public washrooms.
About Cornwall Tourism
Cornwall Tourism is reponsible for marketing Cornwall to attract new visitors. The office maintains a visitor information centre year-round at the Civic Complex. CornwallTourism.com is an online resource that provides current tourism news as well as a comprehensive calendar of events.
You can follow Cornwall Tourism online: