Daffodil Pub opens in Le Village
August 27, 2020
Cornwall Ontario – A new restaurant is blooming in Cornwall's Le Village district.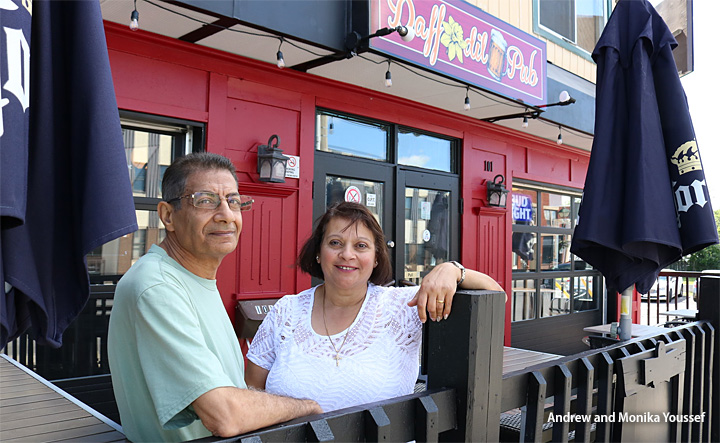 The Daffodil Pub officially opens its doors today at the corner of Montreal Road and Albert Street, providing a fun new venue for patrons to enjoy casual dining, a pub setting and patio socializing all in one.
The new venture is the brainchild of Toronto couple Monika and Andrew Youssef, who recently relocated to the city to launch the business. Andrew has more than 40 years of experience in the restaurant industry, having operated two eateries in Toronto. He was researching restaurant opportunities in various communities when he discovered the Cornwall property.
"This was the exact layout that I was looking for," he added.
His wife Monika came up with the name and the duo wasted little time moving in and building it up.
Andrew has also built up an extensive menu covering a variety of tastes, including everything from steak and ribs to chicken, burgers, wings, salads and pub classics like fish and chips, smoked meat platters and shepherd's pie. The chef says the lasagna and souvlaki are two of the highlight dishes that he is anxious to serve to customers. There will also be special nights including wing nights on Tuesdays and Wednesdays, burgers on Mondays and Thursdays and Fajita Fridays.
In addition to the lunch and dinner menu, Daffodil Pub will also offer brunch on weekends from 8 am to 2 pm.
The veteran restaurant operator said the food is only one ingredient in their eventual success.
"You don't go to a restaurant just to eat. If you aren't entertained, it's not worth it," Andrew said. "We will work hard to make it a fun experience for our guests."
In addition to the menu, Andrew said they will offer catering as well as accommodations for meetings and special functions like birthday parties and family gatherings. Organizers are invited to call the business (613-933-2000) to make arrangements.
"I have a wide menu of dishes and I can prepare any style of food," Andrew added. "We can sit down and build a special menu for the event."
In light of the pandemic, the restaurant will also be offering take-out as well as delivery through Door Dash (as of September 16th) and potentially other food delivery providers.
Following the official opening today, the Daffodil Pub will open at 8 am on weekends, 3 pm on Mondays, Tuesdays and Wednesdays and 11 am on Thursdays and Fridays.