Demand for Bacon Spurs Growth at Olymel Cornwall
March 14, 2019
Cornwall Ontario – People sure do love their bacon. And that love is resulting in some major changes at Olymel's state of the art facility in Cornwall.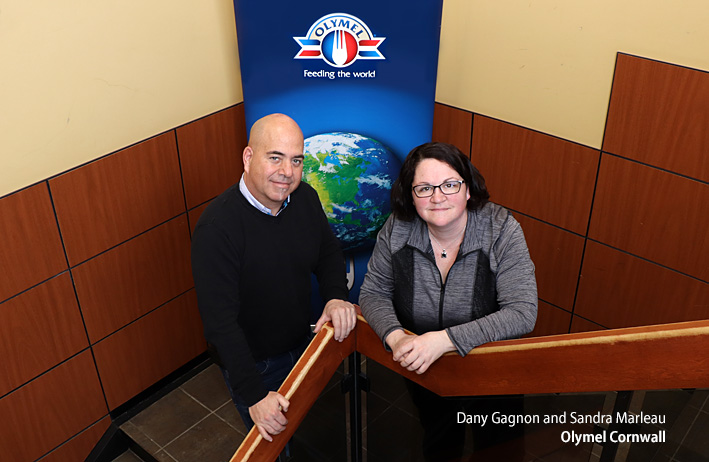 Olymel has ramped up production of bacon products at its Cornwall plant and in doing so has invested over $1 million in new machinery and other upgrades to the plant, which is located in the Cornwall Business Park.
"Our growth in Cornwall is a direct result for increased demand for our products, both from our corporate customers and from the general public," says Dany Gagnon, Plant Manager. "Our team has met that challenge and we have increased production while maintaining the highest quality standards."
Increased demand has also meant a need for new employees. As of March 2019, the Cornwall plant employed over 600 people, an increase of 50% (over 200 employees) in just 12 months.  Olymel staff have had to be creative in recruiting new team members.
"Increases in production staff has also meant additions to the management and technical teams," says Sandra Marleau, Facility Trainer in Cornwall. "We expect to hire over 80 students this summer and as our past students complete their education, they know that a full-time job is waiting for them here."
Employment opportunities at Olymel can be found on the ChooseCornwall.ca Job Board.
The Cornwall plant produces approximately 10 different kinds of bacon, including regular, hickory and low sodium.  It offers both fresh sliced bacon as well as pre-cooked bacon products for a variety of markets, including general consumer retail and hotel/restaurant/institution. An emerging trend is natural bacon which has no preservatives.
Olymel continues to invest in innovation and new technology, such as changing the way fresh sliced bacon is packaged to increase shelf life from 21 to 70 days.
About Olymel
Olymel is Canada's leader in the production, processing and distribution of pork and poultry meats. The company has made feeding the world its mission, which it pursues passionately with products of impeccable quality. The company employs over 11,500 persons and has production and processing facilities in Quebec, Ontario, Alberta, New Brunswick and Saskatchewan. Olymel exports nearly a third of its total sales. Its annual sales are on the order of $3.5 billion. The company markets its products mainly under the Olymel, Lafleur and Flamingo brands.
In two separate transactions in 2018, Olymel acquired Pinty's Delicious Foods as well as  Triomphe Foods and its brands including Tour Eiffel, Nostrano and Mother Hen.
For more information about the company, visit: www.olymel.ca