Digital Service Squad Comes to Cornwall SDG and Akwesasne
March 23, 2023
Cornwall, Ontario – Local businesses in Cornwall, SDG and Akwesasne will now be able to tap into local support – as well as grant funding – to build the digital side of their business.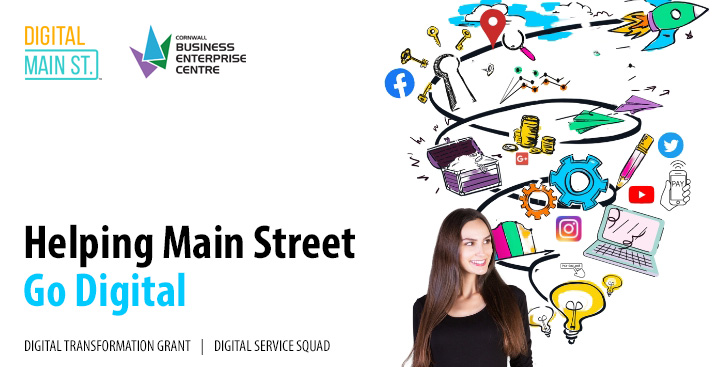 The Cornwall Business Enterprise Centre has received a $65,000 grant from the Digital Main Street program for a one-year Digital Service Squad, which provides small business owners with the tools and support needed to digitally transform their businesses.
"We are thrilled to have been successful in securing additional support for small businesses in our community," said Shauna Baggs, Business Consultant at the Cornwall Business Enterprise Centre. "We look forward to connecting with the many businesses across Cornwall, Stormont, Dundas and Glengarry and Akwesasne that will benefit from this innovative and much needed program."
Digital Service Squads (DSS) are the cornerstone of Digital Main Street (DMS), with trained specialists who meet with brick-and-mortar small businesses, at no cost, to help them complete an online assessment and to introduce them to online training modules designed to build their digital knowledge and skills. This one-on-one DSS assistance includes support for basic website setup, Google Business Profiles, 360⁰ photos, social media presence, and much more. Squad members are also trained to help qualified small businesses with the development of their Digital Transformation Plan and then with the application process for a $2,500 Digital Transformation Grant.
"Small businesses are innovative and entrepreneurial, but often lack the resources to respond to change, be resilient, yet flexible," said Kay Matthews, Executive Director, OBIAA. "OBIAA is delighted to work once again alongside the Digital Main Street team and is thrilled to support Cornwall Business Enterprise Centre squad. The Digital Main Street program's resources, grants, training, and Digital Service Squad assistance provide the means for more small businesses in communities across Cornwall, Stormont, Dundas and Glengarry and Akwesasne to adopt innovative ways, create new revenue streams, expand their markets, and face the future with optimism and confidence."
Now Hiring!
The Digital Service Squad will be facilitated by Cornwall Business Enterprise Centre and will focus on supporting the growth of innovation and entrepreneurship in Cornwall, Stormont, Dundas and Glengarry and Akwesasne. We are currently recruiting for a Digital Service Coordinator to start reaching out to businesses in May 2023. Interested applicants can apply by visiting: Digital Service Coordinator – City of Cornwall
More Info
Businesses interested in learning more about the program and eligibility requirements for the Digital Transformation Grant are encouraged to contact entrepreneurship@cornwall.ca. Businesses looking to schedule a visit from the Digital Service Squad are invited to add their name to the waiting list: Digital Service Squad Waitlist
About OBIAA
The Ontario Business Improvement Area Association (OBIAA) is a network representing and supporting BIAs across Ontario. The Association supports and advocates on behalf of its members through the building and nurturing of strong relationships and partnerships. OBIAA is a leader in the development and sharing of information, tools, resources and best practices, and is the ONE voice on common issue
About Digital Main Street
Digital Main Street is a program that helps main street businesses achieve digital transformation. The program is built around an online learning platform, structured training programs, and the Digital Service Squad, a team of street-level team members who help main street businesses grow and manage their operations through technology.
About the Cornwall Business Enterprise Centre
The Cornwall Business Enterprise Centre (CBEC) provides information and support to entrepreneurs during start‐up and growth stages of business operation. Seminars, workshops, and special events are held throughout the year, on topics of interest to various types of businesses. CBEC has been operated by the City of Cornwall Economic Development Department since 1997 and is funded in part by the Government of Ontario. The Centre also administers the popular Summer Company program for student entrepreneurs and the highly successful Starter Company PLUS program.
The Cornwall Business Enterprise Centre is located at 100 Water Street East (Cornwall Civic Complex) and can be contacted by email at entrepreneurship@cornwall.ca:
Available Jobs in Cornwall and Area
A list of available jobs in Cornwall, including the position noted above, can be found on the ChooseCornwall.ca Job Board  and the City of Cornwall Careers page. Interested candidates are also invited to attend the Cornwall Job and Area Job Fair on Wednesday March 29.