Dr. Paul Dental brings more smiles to Downtown Cornwall
October 23, 2020
Cornwall Ontario – There's even more reason to smile in Downtown Cornwall with the opening of a new family dental clinic.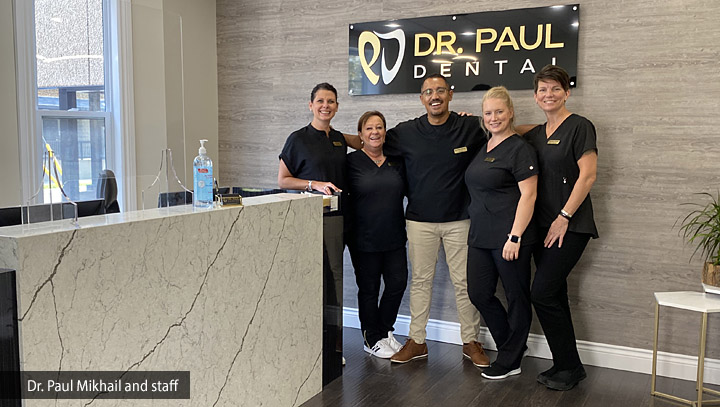 Dr. Paul Dental has officially opened its doors at 110 Sydney Street, providing a full spectrum of dental services in a newly-refurbished 3,000 square foot space (with complimentary parking).
The new location marks a major milestone for owner Dr. Paul Mikhail, who has made Cornwall his home while pursuing his practice.
"I've always worked in Cornwall ever since I graduated dentistry 10 years ago," he said. "Cornwall has always embraced me and that's why I decided to open my own clinic to continue serving the community I love."
The new office features state-of-the-art equipment to go with a patient-first philosophy.
"We pride ourselves on personalized care. We chose the most state-of-the-art equipment in order to ensure the comfort of our patients and to make their experience at the dentist's office a pleasant one," Dr. Mikhail added.
Dr. Mikhail is supported by a staff of four – clinic manager Natasha Crocker, dental hygienist Sara Smith and dental assistants Linda Lappan and Tara Benson.
"I've always dreamt of building a clinic that could somehow relax patients and make them laugh. Dentistry terrifies people, and I think the ambiance and staff we've put together will do just that. I'm excited to welcome patients to a light-hearted and caring environment," Dr. Mikhail said.
New patients are welcome.
Additional information
Dr. Paul Dental is open Monday and Thursday from 9 am to 7 pm, Tuesday and Wednesday from 9 am to 5 pm and Friday from 8 am to 1 pm. You can reach the office by phone at 613-938-1010. For additional information please visit
A Heart of the City project
The Sydney Street business was supported through the Heart of the City Community Improvement Plan.
Offered through the City of Cornwall's Economic Development department, the Heart of the City Community Improvement Program (CIP) is designed to encourage and assist property owners to improve their properties, and by extension, improve their local communities. The program provides seven different sources of support to business owners looking to upgrade their properties. They include loans (forgivable or interest-free), tax reimbursements or matching grants for things such as signs, facades, tipping fees and the like.
"The whole point (of the CIP) is to support new businesses and residential units and by extension, jobs and commercial assessment," said Dana McLean, Development Coordinator with the City of Cornwall. "It's aimed at bringing people Downtown to shop, work and live."
For additional information on the Heart of the City CIP, please click on the following link:
https://choosecornwall.ca/business/financial-incentives/heart-of-the-city/