Dream Deals Opens Cornwall Retail Store
June 13, 2022
Cornwall Ontario – Do you ever wonder where all the items you return online go to? The answer in part is Dream Deals, a new retail store on Brookdale Avenue.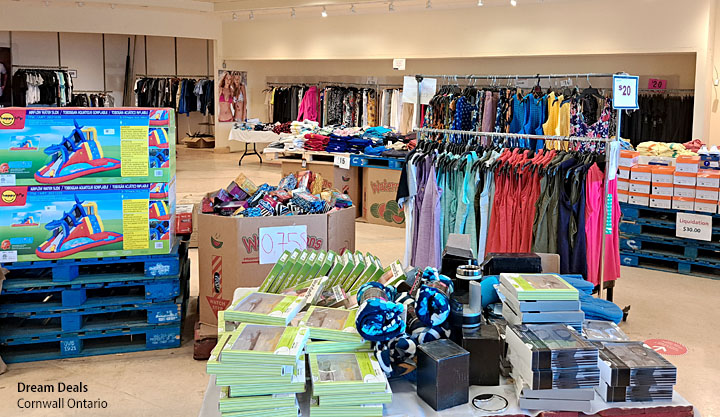 Dream Deals offers a wide selection of brand name goods including clothing, furniture, tools, electronics, sporting goods, home décor and food. The goods are sourced from manufacturers as well as goods from retailers such as Costco. In some cases the goods are undamaged product that was returned, or may simply be end of run merchandise that needs to be moved to make room for new items. The nature of the business is that the lineup of goods changes on a regular basis, and customers benefit from significant discounts on original sticker prices.
The Dream Deals store is 8,000 square feet, and currently has on offer a selection of furniture, sporting goods, household items and clothing. Additional stock is expected to arrive as the store floor area is expanded.
Dream Deals is located at the Brookdale Plaza, which is owned by Choice Properties. The plaza offers over 260,000 square feet of retail space and is anchored by Food Basics, Scotiabank, Dollarama, Planet Fitness, Kelsey's and Tim Hortons.
The liquidation market has more than doubled since 2008, and offers a win-win for both retailers and consumers. On one hand, consumers can find great deals, and for the retailers, they have a way to move merchandise that has been returned or reached the end of its shelf life. It is estimated that over 15% of merchandise sold is returned, and the rate is even higher for online purchases.
Dream Deals is located at 960 Brookdale Avenue and is open 7 days a week from 10am to 5pm.  You can reach them online at: