Eastern Ontario Training Board Launches Employer One Survey
January 5, 2021
Cornwall Ontario – Each year, the Eastern Ontario Training Board surveys local business leaders to gather data on employer needs.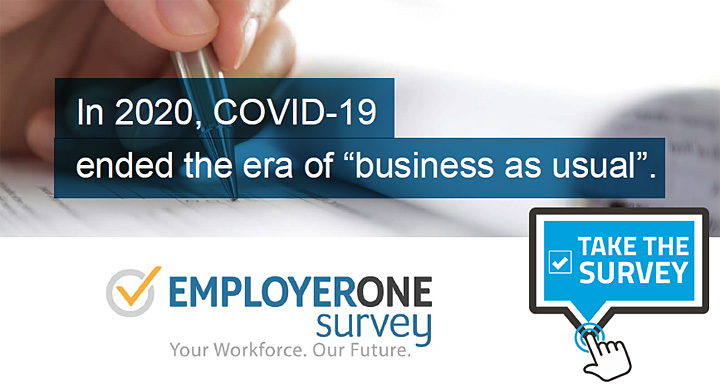 This year the Training Board (EOTB) is asking employers to help identify workforce issues along with unique challenges as a result of the pandemic.  The EmployerOne survey is designed to collect information on a range of issues including the impact of the COVID-19 pandemic on the workforce, projected vacancies, hiring intentions, recruitment strategies and challenges, as well as business perspective on candidate skills, education and training.  After analysis, responses from local businesses will be compiled and released to local schools, community partners, government agencies and the public so that they may see the characteristics of the local labour market.  Results from Cornwall, SDG and Akwesasne will also be added to regional responses to obtain an Eastern Ontario perspective.
"This year, more than ever, it is important to hear from our employers regarding their hiring and retention needs," says Martha Woods, EOTB Executive Director. "We will use the data in partnership with service providers, educators and Ministries to make more informed decisions and provide support to the community through these challenging times. Our motto is local information, local action, local results! "
Given the current challenges being faced by the business community, the EOTB is looking to expand the survey's reach and increase the response rate. It has dedicated two staff members, Kimberly Hamilton and Skyler Chretien, to work on the project and answer any questions from employers.
"One of our marketing strategies is to offer incentives to employers who complete the survey," says Ms. Hamilton. "A draw for a gift certificate for a local business will be drawn on a weekly basis in the hopes of not only encouraging employer participation but also to support our local business and encourage the community to shop local."
Take the Survey!
The EmployerOne Survey is now live.  Click on the following link:
About the Eastern Ontario Training Board
The Eastern Ontario Training Board (EOTB) was established to play a leading role in labour force development. It undertakes a number of projects throughout the year, and publishes the TOP report on local labour force issues. More info can be found online: