Eastern Ontario Training Board Opens New Office
August 26, 2021
Cornwall Ontario – The Eastern Ontario Training Board has officially opened the doors to its new offices in the middle of Downtown Cornwall.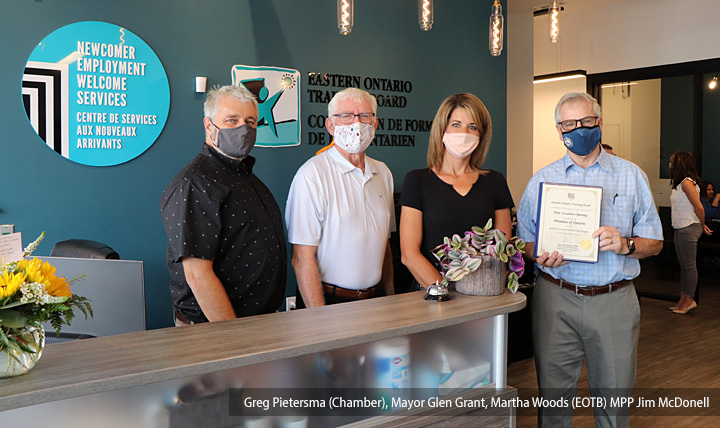 The spacious campus-style office is located at 16 Second Street West and features a professional designed interior that offers meeting room space, a new learning lab and of course offices for Training Board Staff. The building also houses the offices of the Cornwall Chamber of Commerce, the Newcomer Employment Welcome Services Centre and the CÉSOC Settlement Program for Francophones.
"Our new offices accommodate EOTB's expanding footprint – and gives us room to grow – as our organization continues to implement new programming to serve the community's needs," said Martha Woods, EOTB Executive Director. "A centralized main street location allows for greater contact with our community and the clients we serve."
The new facility measures 5,000 square feet of main floor barrier-free office space, in addition to a large lower level that can accommodate future needs. The building, formerly home to Scotiabank, has been completely renovated by Rothmar Holdings, with the assistance of the City of Cornwall's Heart of the City Community Improvement Program.
The EOTB was established in 1998 to guide workforce planning and development in support of government training programs and employment related services. This includes labour market research, identifying priorities for training; making recommendations on programs and services to ensure they are accessible, effective and responsive to local needs; and working with community partners to resolve labour market and socio-economic development issues. Some of the more recent projects that the EOTB facilitates include an Employer Webinar Series, DZ drivers licence training, financial literacy programming, introduction to the trades, newcomer services and labour market information collection.
The Eastern Ontario Training Board is located at 16 Second Street West and can be reached at 613-932-0210 or online at: