Eco Farm Days Set for February 23 and 24
January 21, 2019
Cornwall Ontario – On every farm, the small things count.
That is the theme of the 2019 edition of Eco Farm Days taking place this February 23 and 24 at the Cornwall Ramada.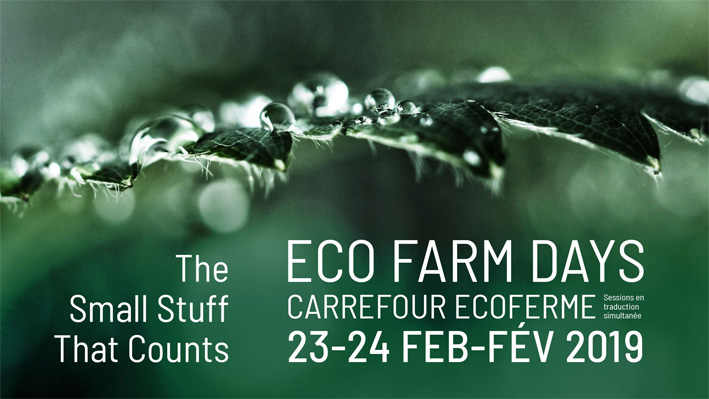 The two-day conference is the premier annual organic event where upwards of 300 farmers, market gardeners and related businesses in Eastern Ontario and Western Quebec meet to discuss successful organic farming techniques.  The event has evolved significantly over the past 13 years that it has been held in Cornwall.
The program features a balance of big names in organic agricultural innovation along with local presenters who can speak to how organic management is evolving in Eastern Ontario and Western Quebec. Many of the conference sessions will revolve around this year's theme of The Small Things That Count. Whether small changes in management, or the work of micro-organisms, farmers can attest to how small things make big differences.
Keynote presenter this year is Ben Hartman of Clay Bottom Farm in Indiana, and author of The LEAN Farm.
"We have been wanting to get Ben to Eco Farm Days for a few years now," says Colin Lundy, one of Eco Farm Days' co-organizers. "We're thrilled we could make it work this year, because we feel his 'LEAN' farming method has a lot to offer to all farmers in our region."
Hartman will kick-off Eco Farm Days talking about how LEAN methods have allowed him to reduce his acreage, and yet improve both the farm's profitability and his family's personal well-being. While Hartman is a mixed vegetable farmer, he shows how the LEAN principles apply universally for all types of farms, regardless of scale. On Sunday, Hartman will give a full day, in depth look at the concepts of LEAN farming so that farmers are better equipped to start reducing waste and improving efficiency on their own farms.
For Livestock farmers, Eco Farm Days will feature presentations from Vermont-based grazing specialist Sarah Flack, author of The Art and Science of Grazing. Flack will illustrate not only the specific benefits of different pasture management systems for livestock, but also turns the equation on its head and illustrates how careful management of livestock grazing improves the health and productivity of pastures.
Michael Phillips is already well known for his books on fruit production. However, his journey with fruit trees has led to a new publication, Mycorrhizal Planet which takes a closer look at the microscopic fungi that are integral to plant health, not just fruit trees. Phillips will give presentations on mycorrhizal fungi and how they work on Saturday. Then he will deliver a full day workshop on Sunday about utilizing micro-organisms and other biological factors for successful orchard management.
More local presenters include:
Denis La France from CETAB+ on the latest developments in the evolution of green manuring in Quebec,
Kyra Lightburn from uGuelph on how pasture management affects wild pollinator populations,
Sean Butler of Ferme et Forêt on growing Shiitake mushrooms outside,
Rob Wallbridge, organic specialist with Thompsons Ltd, on innovative weed control in field crops,
Robin Turner, of Roots and Shoots Farm, and Agricultural Real Estate Manager for the National Capital Commission will compare the pros and cons of renting or owning farmland.
Biodynamic farmer, Titia Posthuma, will be talking about climate resilience on the small farm.
Local farmer/researchers participating in Farmer Led Research Project of Ecological Farmers Association of Ontario.
Saturday evening will include a social gathering to keep the momentum of the day going. Laura Howard of Récolte will be facilitate discussions to help develop new ideas and make new connections with other farmers and other actors in the sustainable food system.
The keynote presentation and three other Saturday sessions will have simultaneous translation to French.
Registration
Details and registration is available at www.ecofarmday.ca, by emailing ecofarmday@cog.ca or by calling 613-487-2257.
About Eco Farm Days
Eco Farm Days is presented by COG-OSO, the Ottawa-St. Lawrence-Outaouais Chapter of Canadian Organic Growers. Follow them online
Categorised in: Business, Environment, General, News