Edward's Bistro Brings Scratch Cooking to Downtown Cornwall
October 9, 2018
Cornwall Ontario – Downtown Cornwall's diverse restaurant scene has an exciting new addition.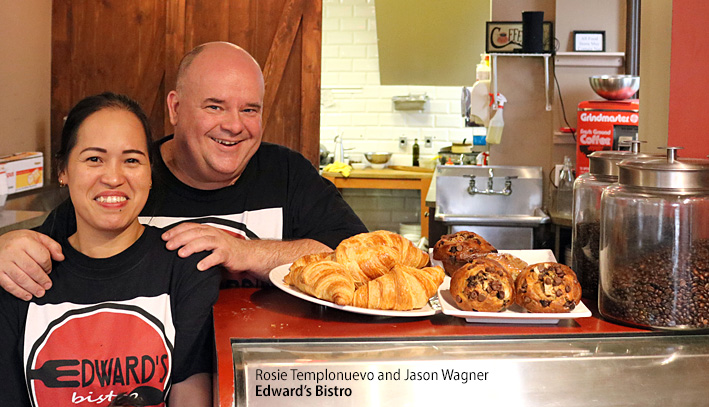 Edward's Bistro has opened its doors at 35 Second Street East offering a varied menu of tasty meals, great coffee and delicious sweets with a focus on fresh, local ingredients.
The eatery is the brainchild of new residents Jason Wagner and Rosie Templonuevo, who recently resettled to Cornwall with their son Edward – the inspiration behind the restaurant's name.
The couple explored a few communities before settling on Cornwall after spending a day driving around the community and exploring the Downtown area.
"We just thought it was a progressive but quaint city," said Jason. "We like to build relationships with our customers and we feel that is more reachable in a community like this."
The beautiful space for their new venture left little need to be convinced.
"I saw the wood floors and the beautiful light fixtures and the railings and artwork on the walls," Jason recalls. "I could tell this was not just a space. This one had a lot of heart and soul."
Edward's Bistro represents the latest chapter in a long-term love affair of food and fine cooking for Jason, a trained chef with over 25 years of professional experience. Together, he and wife Rosie have put together an eclectic menu of favourites that they've perfected over the years from many styles of cuisine.
A key mission of the restaurant is to avoid pre-packaged foods wherever possible with a preference instead on fresh, local ingredients. Breakfast and brunch items are created with Laliberte eggs from nearby St-Isidore, as an example.
"We want to do as much scratch cooking as possible, with a focus on healthy and wholesome food," he added.
Coffee is also a highlight at the bistro.
"We roast our own coffee in small batches to ensure it's always fresh. It's single origin and often straight from the farm," Jason said. "We're open early for people who are looking for their morning cup and want to take it with them."
As for the menu, there are no shortage of options to satisfy all taste buds. The current menu features a variety of brunch and lunch options, with dinners to be introduced in the near future on Thursday to Sunday evenings.
Visitors can feast on anything from pancakes and Eggs Benedict to more diverse selections like Quinoa paëlla with shrimp, sausages and eggs, chicken breast cordon bleu, and fillet of salmon. There's also staples like thin crust pizza, burgers, poutine and a variety of salads and sandwiches.
"The menu is made up of many of my favourite dishes from working in other kitchens over the years," Jason added. "I'm really price conscious. I want to give the best value for the best price."
Edward's Bistro is open Monday to Wednesday from 8 am to 3 pm, Thursday and Friday from 8 am to 9 pm and Saturday and Sunday from 8:30 am to 9 pm. You can reach the bistro online at: