Edward's Bistro Expands Downtown Dining Options
July 20, 2023
Cornwall Ontario – Good food and good service at a great value.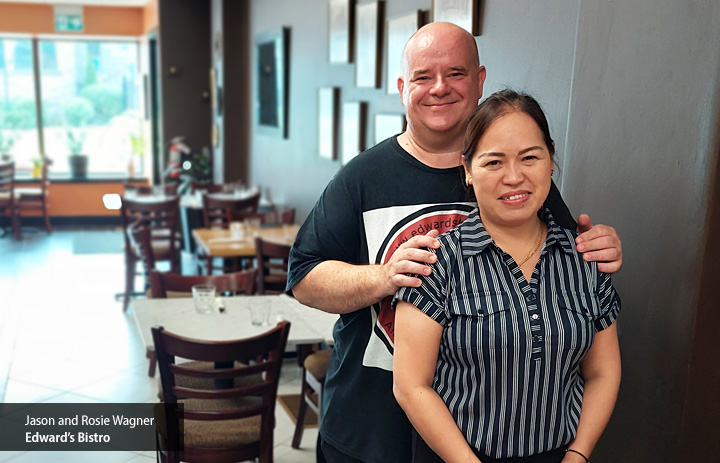 That's the motto for Edward's Bistro as the popular restaurant reopens its doors in a new, larger space in Downtown Cornwall.
Located at 27 Second Street East, just a couple doors west of their previous location, the new Edward's Bistro offers an expanded seating area in a warm, inviting atmosphere. Along with the physical expansion, co-owners Jason and Rosie Wagner have decided to expand the dining experience as well with a full breakfast, lunch and dinner menu seven available days a week.
"We've developed a great base of regular customers who visit the restaurant often and we're always welcoming new guests," Wagner said. "I wanted to diversify the menu and give people a chance to visit for breakfast, lunch or dinner."
Wagner brings extensive experience in fine dining establishments to the Edward's Bistro kitchen, and it fuels his philosophy of providing quality meals with fresh ingredients at a friendly price.
"I'm trying to give the masses that same quality experience but at a friendly price," he added. "I want it to be a place where you can come more than once or twice a year."
The menu offers a wide variety of options that are sure to satisfy every taste. The French Toast Banana Foster and Eggs Benedict are two can't-miss items on the large breakfast menu.
"People say (the hollandaise sauce) is the best, and we do it on a croissant," Wagner said.
Rosie's Spring Rolls are a fixture on the lunch menu, while the dinner menu features dishes ranging from steak, seafood, chicken pasta and more.
Additional information
Edward's Bistro is located at 27 Second Street East . The restaurant is open seven days a week from 9:30 am to 2 pm for breakfast and lunch and 5 pm to 8 pm (9 pm on Fridays and Saturdays) for dinner.
For additional information on Edward's Bistro, visit: