EmployerOne Survey Examines Local Labour Market Activity
June 3, 2021
Cornwall Ontario – The Eastern Ontario Training Board (EOTB) has completed its annual EmployerOne Survey which examines labour market activity in the City of Cornwall, United Counties of Stormont, Dundas and Glengarry (SDG) and the United Counties of Prescott and Russell (PR).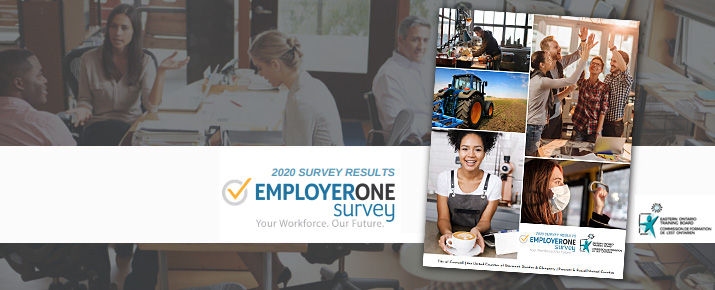 The survey, conducted between January 4th, 2021 and February 26th, 2021, allowed businesses to share information about their workforce experience in 2020. While there have been multiple provincial and national surveys, this is one of the only surveys providing local information to inform local services.
"Gathering information about hiring and skills in demand is vitally important to ensuring local services, training and education meets the needs of the local business community," says Martha Woods, Executive Director, Eastern Ontario Training Board.
The 2021 EmployerOne Survey looked a little different than in previous years. EOTB joined with five other Local Workforce Development Boards in Eastern Ontario to conduct a common survey. The boards worked hard to connect with their local businesses to generate a response rate that provides meaningful results locally and delivers a perspective on workforce development across Eastern Ontario.
Submissions were received from 252 SDG and PR businesses producing results with a 95% confidence interval and a margin of error of +/- 3. Across Eastern Ontario, surveys were completed by 1,344 businesses from all sectors of the economy producing results with the same confidence level and margin of error.
With the support of the Ministry of Labour, Training and Skills Development, EmployerOne Survey results are being shared with educators, employment support agencies, businesses, economic developers, and industry associations to provide a better understanding of the impact of the COVID-19 pandemic, occupational shortages, projected hiring and professional development requirements.
Survey results for SDG and PR and the regional report are available at www.eotb-cfeo.on.ca.
About the Eastern Ontario Training Board
The Eastern Ontario Training Board (EOTB) was established to play a leading role in labour force development. It undertakes a number of projects throughout the year, and publishes the TOP report on local labour force issues. More info can be found online: