Enrolment Surges at St. Lawrence College
October 16, 2018
Cornwall Ontario – Enrolment at the Cornwall Campus has hit a new high.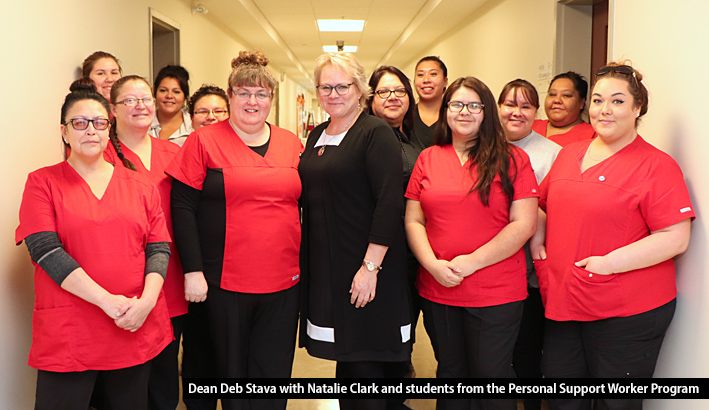 1400 full time students are registered for the 2018/2019 school year, which represents a healthy increase over the previous year.
"Campus is bustling with new and returning students," says Deb Stava, Dean of the Cornwall Campus. "Our numbers are trending upward, which I believe is a reflection of the attractiveness of our course offerings."
The Cornwall Campus offers educational opportunities across more than 30 programs, including business, logistics, law enforcement, paramedics, health care, video game programming and skilled trades.
Over 300 International Students
The growth in enrolment in Cornwall can be directly attributed to an increase in international students. This segment of the student population has risen from 60 to 300 students and is a result of dedicated outreach efforts by College staff.
"We have students from well over 10 countries in Cornwall, and more than 40 countries College wide," says Ms. Stava. "This international flavour creates an opportunity for cultural exchanges and makes the campus a very interesting place to be."
Students come to St. Lawrence College because they know they'll be career ready when they graduate, according to Glenn Vollebregt, President and CEO of St. Lawrence College.
"Our Key Performance Indicators show year after year that making the choice to pursue their studies at SLC means they'll be on the right path to the career of their dreams, or to furthering their education," he said. "We're proud of our record and continue to strive every day to put our students first, and provide the best educational environment."
The Cornwall Campus of St. Lawrence College is nestled on the banks of the St. Lawrence River, immediately adjacent to the popular scenic trail. The campus has recently received a major redevelopment, resulting in new class rooms, new equipment and an overall improved learning experience.
About St. Lawrence College
With three campuses in Brockville, Cornwall, and Kingston, St. Lawrence College is an integral part of the economic life and social fabric of Eastern Ontario with a close-knit community of 7,000 full-time students, and more than 70,000 alumni. Hundreds are also enrolled in online and continuing education courses each year. SLC college has many Applied Research projects in progress, and its Corporate Learning and Performance Improvement group has helped more than 350 organizations grow and prosper.
The Cornwall Campus is nestled on the banks of the St. Lawrence River, and shares its campus with Aultsville Theatre, the head office of the Canadian Colleges Athletics Association and the St. Lawrence River Institute of Environmental Sciences.
You can find out more information on the St. Lawrence College website:
St. Lawrence College is also featured in the new edition of Cornwall Living magazine. You can order your complimentary copy by clicking here.