Entrepreneur Roundtable Set for June 14
June 1, 2023
Cornwall, Ontario – Cornwall Business Enterprise Centre will welcome three local entrepreneurs to the Cornwall Civic Complex on Thursday, June 14th to share their personal small business journey.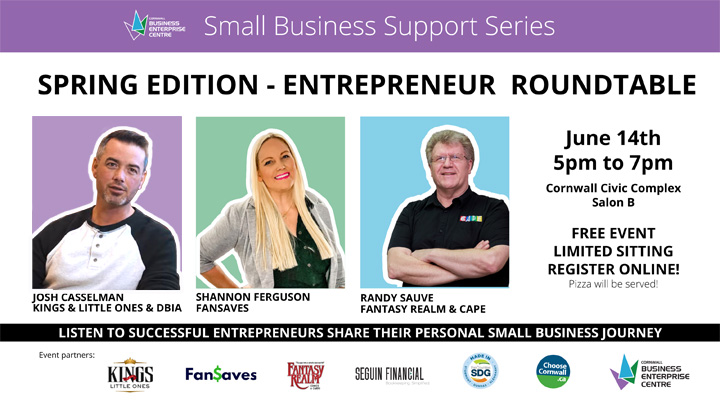 The Entrepreneur Roundtable is designed to offer a platform for new entrepreneurs to learn from experienced business owners, gain valuable insights into entrepreneurship, receive advice on starting a business and the challenges of being a small business owner. Participants will have the opportunity to ask questions directly to the panelists in an informal setting.
Panelists
"We are looking forward to the conversation with all three panelists," says Shauna Baggs, Business Consultant at the Cornwall Business Enterprise Centre. "One of the best ways to grow and develop as a business is to learn from our peers. The entrepreneur roundtable is a perfect way for new businesses to learn and build their support network within the community."
Josh Casselman – Kings & Little Ones
Josh Casselman opened Kings & Little Ones in 2015 as an alternative to salons that are geared towards women. To date there is no other Barber Shop in Cornwall that offers the same atmosphere.
"Everything we do is focused on making guys feel comfortable," says Mr. Casselman. "Somewhere over time, getting a haircut became an awkward experience. At our shop you won't find hair curlers or NASA approved hair products. And instead of staring at posters of fashion forward cuts you can relax and watch Sports Centre."
Shannon Ferguson – FanSaves
The Cornwall Business Enterprise Centre is proud to have given support to FanSaves as part of the Starter Company Plus program. Shannon has gone on to win multiple pitch competitions, was recognized by the Canada Capital Region 40 under 40, was a guest speaker at Start-up Canada and most recently named part of the 2023 Comcast NBCUniversal Sports Tech Accelerator.
"I'm so proud to have grown up in Cornwall and to be part of this community. Being able to represent this area at a global level and letting others know that it's possible to grow a scaling startup from a rural community is incredible and something Kris and I never take for granted" explained Ferguson.
Randy Sauve – Fantasy Realm and CAPE
Fantasy Realm has been a pop culture staple for Cornwall and Area since Randy Sauve opened the doors in 1984. Owning a business for 38 years builds a wealth of knowledge and experience. In 2015, Randy expanded his love of science fiction and fantasy by creating the Cornwall and Are Pop-culture Event (C.A.P.E.). The annual event has welcomed thousands of pop culture enthusiasts to Cornwall
"I've been in this physical spot since February 4th 1985," said Sauvé. "The idea that it's been 35 years is mind boggling to me…there are people who've just discovered the store and don't realize we've been around that long," said Randy Sauve.
Event Details
The Entrepreneur Roundtable will be held June 14 from 5:00pm  to 7:00pm at the Cornwall Civic Complex at 100 Water Street.
There is no charge to attend this free event which is open to all. Participants are asked to register in advance.
About the Cornwall Business Enterprise Centre
The Cornwall Business Enterprise Centre helps small business owners and entrepreneurs succeed in Cornwall, Stormont, Dundas, Glengarry & Akwesasne by offering information, tools and support during the start-up and growth stages of business operation. This includes administration of the Summer Company and Starter Company PLUS programs. The Cornwall Business Enterprise Centre is operated by Cornwall Economic Development and funded in part by the Government of Ontario.
The Cornwall Business Enterprise Centre is located at 100 Water Street East (Cornwall Civic Complex) and can be contacted by phone at 613-930-2787 x2276 or online at: