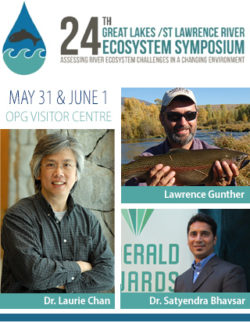 24th Annual River Symposium to Explore Fishing Habitats
May 26, 2017
Cornwall Ontario – The River Institute will once again be holding a River Symposium. This year's event will held May 31 and June 1 at Ontario Power Generation Visitor Center.
"A focus this year will be identifying and assessing challenges relating to fish health, contaminants and population changes in the light of a changing ecosystem," says Dr. Jeff Ridal of the River Institute.
The symposium offers a great line-up of speakers starting with a morning about Fish!
The Keynote speaker is Dr. Laurie Chan, Canada Research Chair in Environmental Health and Toxicology at the University of Ottawa. Dr. Chan will speak on the risks and benefits of fish consumption.
This will be followed with a panel discussion led by Lawrence Gunther. Mr.Gunther is Canada's only professional blind angler. Lawrence has worked as a commercial Cod fisher on the East coast, invented the world's first fishing boat for the blind, and recently released his first film "What Lies Below".
The panel will include:
Steven Cooke, Carleton University
Fishing for effective science communication and angler engagement
Colin Lake, OMNRF
An overview and independent assessment of Great Lakes fisheries, reporting requirements, and current fishery practices including species harvested, landed values, and gear used.
Matt Windle, River Institute
An overview of Lake St. Francis fish populations for the past 30 years
Bruce Tufts, Queen's University
The value and ingredients of "quality" fisheries
Marc Thorpe, Fishing Guide and TV Host
Fish Population Trends and Variables
The afternoon includes a presentation from research scientist Dr. Satyendra Bhavsar,  who will speak about safe eating of Ontario fish. The day rounds out with a great line up of afternoon talks, including Bats, Barnswallows, Mussels, Eels, wetland and other topics.
Thursday June 1st is Community Science Day and will feature Environmental Exhibits from 20 local groups. People will be able to hear Lawrence Gunther talk about his film "What Lies Below" (10 am and 11am).
The symposium is free to the community but you must register for the Wednesday.   Call 613-936-6620 x 0 or email to info@riverinstitute.ca
About the River Institute
The St. Lawrence River Institute of Environmental Sciences is a non-profit, charitable research centre located in Cornwall, Ontario, Canada. Its mandate is research, education and community action relating to large river systems, with a focus on the St. Lawrence River ecosystem. A non-governmental organization, the River Institute works in partnership with a wide variety of individuals, groups, agencies and communities to fulfill its environmental mission.
Categorised in: Environment