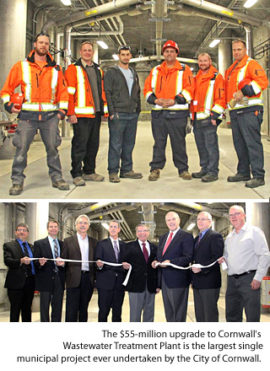 $55 Million Upgrade To Cornwall's Wastewater Treatment Plant
November 28, 2014
Cornwall Ontario – Families and businesses in Cornwall are benefitting from up-to-date wastewater infrastructure now that significant upgrades to the Cornwall Wastewater Treatment Plant are complete. Representatives from the federal, provincial and municipal governments gathered on site Friday to mark the occasion.
After two years of construction, the plant now provides a higher level of wastewater disinfection through the use of ultraviolet technology and advanced sludge thickening, filtering and screening processes.
Plant upgrades have also increased the facility's treatment capacity.
"The upgrade of the Cornwall Wastewater Treatment Plant represents the largest construction project ever undertaken by the City of Cornwall," said Mayor Bob Kilger. "In addition to the numerous environmental benefits, this project also places Cornwall in a strong position for future growth and expansion."
This project ensures the health and safety of local residents while helping to protect the surrounding environment by providing improved wastewater effluent and reducing the incidents of sewer overflows that are discharged into the St. Lawrence River.
"Effective wastewater systems deliver numerous benefits for our communities and our environment. They ensure the health and well-being of our residents, safeguard our waterways, and preserve our ecosystems," said Stormont-Dundas-South Glengarry MP Guy Lauzon. "Our Government is pleased to have contributed to this important initiative that is creating jobs and economic growth here in the Cornwall region, while helping to protect the St. Lawrence River."
The Government of Canada and the Government of Ontario each contributed $18.5 million to the project through the Green Infrastructure Fund, while the City of Cornwall provided the remaining $18.5 million of the $55.5 million project.
"Our government continues building Ontario up by enhancing economic growth and addressing critical infrastructure needs with long-term strategic investments," said Grant Crack, MPP for Glengarry-Prescott-Russell. "The fully upgraded plant will not only protect the environment, but will also ensure the health and safety of residents in Cornwall today, and for generations to come."
About the City of Cornwall Wastewater Treatment Plant
Located at 2800 Montreal Road, the City of Cornwall Wastewater Treatment Plant was originally built in 1968, and the facility has undergone several expansions since that time. The latest $55.5-million upgrade has resulted in the addition of secondary treatment and an increase in capacity.
The existing plant currently serves approximately 46,000 residents as well as numerous commercial and industrial customers. The upgraded facility now has a peak capacity of 149,000 cubic metres per day.
More information can be found on the city website at www.Cornwall.ca
Categorised in: Environment, General, News