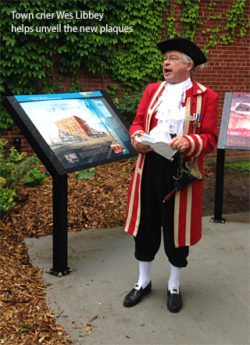 Cornwall Historic Walking Tour Adds Downtown Plaques
July 4, 2017
Cornwall Ontario – The Historic Walking Tour has expanded with 10 new plaques downtown.
This brings up the total of plaques to 30, and the newest additions join plaques unlong the waterfront and Le Village.
Each plaque features colourful illustrations of historic scenes from Cornwall's past. Individually each plaque is impressive, yet together they form a tapestry that weaves throughout the City.
The plaques feature the artwork of renowned Cornwall artist Pierre Giroux, whose prowess with the paint brush makes the illustrations come to life. Local historian Lily Worrall completed much of the research that went into the illustrations.
The Downtown plaques include the former Town Hall, Rossmore House, New York Cafe, Great Fire, King George Hotel, Cornwallis Hotel, Capitol Theatre, Pitt and First Streets, Pitt and Third Streets and the former Cornwall Orphanage.
Brenda Campbell, chair of the Downtown BIA, said the downtown component of the tour adds to the rich history already on display throughout Cornwall.
"We want local residents, and visitors to our community, to know about the role downtown landmarks like the Capitol Theatre and Cornwallis Hotel played in building the foundation of our city.  It is important to pay tribute to the individuals and businesses that helped put Cornwall on the map," she said.
Todd Lihou, Centretown Coordinator, called the tour the first step in a long chain of events to bridge the future with the past.
"Young people are enjoyed the tour and getting excited about the history of Cornwall," he said. "These are the kinds of relationships we want to build – to ensure that our traditions live on through future generations."
While passersby can enjoy the tour in any location, and from any direction, the fun begins in Lamoureux Park at the City of Cornwall Visitor Centre where information about the tour can be found.
Other plaques on the tour feature illustrations depicting Gleason's Lock, the Cornwall Orphanage, Capitol Theatre, Royal Hotel and the Paper Mill can be found on the tour.
Tour Map
Click on the following link to see a complete list of plaques and to download a map of the tour:
Categorised in: Environment