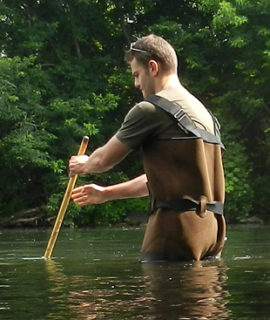 European Student Contributes to Research at River Institute
July 25, 2013
Cornwall, Ontario – The St. Lawrence River Institute of Environmental Sciences has developed an international reputation for its scientific contribution to fresh water research.  As part of this world wide connection, for the past several years, a growing list of students from around the globe return the favour by coming to Cornwall to contribute their own unique scientific skills and knowledge to the River Institute.
The Institute's most recent student is Pierre Colin from Saint Nazaire, France.  A 23 year old specializing in Environmental Science at Avans University of Applied Sciences in Breda, Holland, he has spent the past four months compiling and analyzing data from walleye populations in an ongoing study of mercury in the St. Lawrence River.  Pierre has come to know the St. Lawrence River well through analyzing years of data from walleye samples.
Through this information, a story begins to emerge of a river with an industrial past that is making some strides in recovery.
As a member of the River Institute research and education team, Pierre enthusiastically dove into his work by getting his feet wet with school groups and through community river education. Working with Drs. Brian Hickey and Jeff Ridal, his studies went beyond mercury data research to explore the river as a unique fresh water ecosystem and large living laboratory.  While his time and work here had some challenges, he is pleased with what he has learned and with the new colleagues he has made.  He had specifically wanted to come to Canada and deliberately chose Cornwall and the River Institute for the hands-on work experience that would expand his knowledge of biology.  The River Institute is also pleased with the work he completed for them.
"Pierre's work is valuable and shows us where we need to go next as we pursue our work on mercury in walleye." said Dr. Brian Hickey.  "A group of students who recently joined the River Institute Team from Akwesasne will take on the next steps of this ongoing research."
The further education and experience has been an advantage for Pierre.  When asked what sorts of things he has learned through his extended stay in Canada, he says, "While I have learned much, I have also learned more about myself."  His hope is to go into Environmental Consultancy, exploring sustainable energy and new technologies.
Impressed with the St. Lawrence River and the diversity of the people along its shores, Pierre hopes to return to Canada one day and travel from coast to coast exploring all that the country has to offer.
A scientist with a talent for playing the guitar, Pierre celebrated with musical friends in a "standing room only" farewell concert at The Grind Café in Cornwall just prior to his return to France.
About the St. Lawrence River Institute of Environmental Sciences
The River Institute was established in 1994 as a unique community partnership involving government, education, business and industry, and the Mohawks of Akwesasne. Its mandate is environmental research and education with a focus on the Great Lakes / St. Lawrence River ecosystem. It has earned an international reputation for its fresh water ecosystem research projects. Find out more on the River Institute website: www.riverinstitute.ca
Categorised in: Environment, General, News