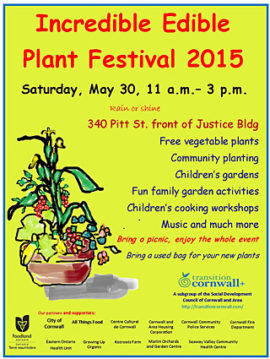 Incredible Edible Plant Festival In Cornwall This Saturday
May 28, 2015
Cornwall Ontario – Humans have been growing their own food for centuries, however as people moved into urban communities, the practice was increasingly left to farmers and rural folk.
In recent years, the idea of growing your own food – even if you live in a city – has become more popular. To celebrate this practice, and to encourage more people to give it a try, Transition Cornwall+ is holding the Third Annual Incredible Edible Plant Festival.
The festival takes place on Saturday May 30th from 11:00 am to 3:00 pm at the Justice Building Plaza on Pitt Street.
There will be free, family-centered activities  – all related to growing fresh food: veggie plant giveaway for new gardeners of all ages, food planting in downtown community sites, many workshops and fun activities for youngsters (treasure hunt, compost display, giant Jenga game, face painting etc.), Master Gardener Q & A, live music and more. Organizers encourage people to bring a picnic and a used bag for your plant.
Multiple organizations have been collaborating to make this event successful including Growing Up Organic, the Seaway Valley Community Health Centre, Marlin Orchards and the Food Action Group.
The Incredible Edible Plant Festival serves as a community event geared towards encouraging self sufficiency. Bill Carriere, a member of the Food Action Group, said: "We're helping to build a sustainable and resilient community".
We rely on food from faraway places, while local green areas of land are underused. Why not put some of our green spaces to more productive use?
About Transition Cornwall+
Transition Cornwall+ is a community group created to help build resilience and sustainability in Cornwall and the surrounding rural area (the + in the name,) in preparation for the combined challenges of peak oil, climate change, and global economic instability. Members believe that with thoughtful planning, the community can become an even more fulfilling, socially connected, sustainable, and self-reliant place to live. Transition Cornwall+ is part of a network that includes hundreds of communities around the world.
Categorised in: Environment, General, News