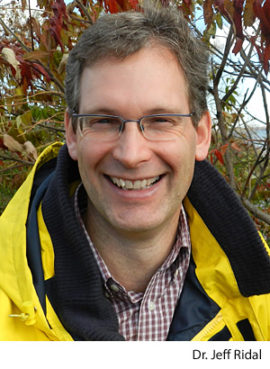 Jeff Ridal Appointed Co-Chair of International Science Committee
March 18, 2014
Cornwall Ontario – This week the International Joint Commission (IJC) appointed Dr. Jeff Ridal, Executive Director of Cornwall's St. Lawrence River Institute of Environmental Sciences, as Canadian Co-Chair of its Science Advisory Board's Science Priority Committee.
The IJC is a joint US-Canada organization that has spent more than a century protecting the shared waters of Canada, United States and First Nation communities throughout the Great Lakes and St. Lawrence River systems.
Dr. Ridal is one of four local scientists from both sides of the St. Lawrence River to serve on its newly restructured Great Lakes Water Quality and Science Advisory Boards. Other local appointments include Henry Lickers, Environmental Science Officer with the Mohawk Council of Akwesasne. Matthew Thompson, Environmental Resource Coordinator from the St. Regis Mohawk Tribe's Environment Division and Clarkson University Biologist, Dr. Michael R. Twiss.
Prior to his co-Chair appointment to the new Science Priority Committee, Ridal served 6 years on the IJC Science Advisory Board.
"I am looking forward to having this unique opportunity to work with dedicated scientists for the benefit of the Great Lakes and St. Lawrence River in this new role", stated Ridal.
The new appointees to the IJC Boards will contribute their expertise to the identification
and evaluation of current and emerging water quality issues and the actions necessary to address them. The boards were established to assist the IJC in fulfilling its obligations under the renewed 2012 U.S- Canada Great Lakes Water Quality Agreement and are comprised of an equal number of members from Canada and the United States.
The St. Lawrence River Institute of Environmental Sciences is a non‐profit, non-government organization dedicated to freshwater research, education and community outreach.
More information about the International Joint Commission and its important work in the Great Lakes and on the St. Lawrence River is available at www.ijc.org.
About the St. Lawrence River Institute of Environmental Sciences
The River Institute was established in 1994 as a unique community partnership involving government, education, business and industry, and the Mohawks of Akwesasne. Its mandate is environmental research and education with a focus on the Great Lakes / St. Lawrence River ecosystem. It has earned an international reputation for its fresh water ecosystem research projects. Find out more on the River Institute website: www.riverinstitute.ca
Categorised in: Environment, General, News