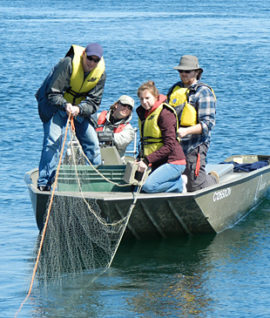 River Institute Celebrates 20 Years At Open House
July 3, 2014
Cornwall Ontario – Looking to learn more about the mighty St. Lawrence River and the environment we all live in?
There is no better place to do that than the St. Lawrence River Institute of Environmental Sciences and there is no better time than today.
The River Institute is holding an Open House today from 2pm to 6pm at their facility on the campus of St. Lawrence College in Cornwall.  This event welcomes everyone to visit the River Institute, tour the facilities, talk to the scientists, and participate in lab experiments, sampling expeditions, and other fun science activities.
"The River Institute is proud of its scientific research and education programs that strive to promote the health of the St. Lawrence River," said Dr. Jeff Ridal, Executive Director, River Institute.
"We always look forward to showcasing our work, our facility and most of all, our great staff and summer students. Those who come to our Open House on July 3 can help us celebrate our 20th anniversary and see what is going on at the River Institute."
Visitors will have the opportunity to interact with River Institute research scientists, staff and students, and help out with river research activities, like using nets to sample fish, collecting and identifying invertebrates from the river and examining specimens in the lab.
River Institute staff will be on hand to answer questions and provide more details about various research projects, education and camp programs that are offered. Summer time refreshments will be served.
The River Institute is celebrating 20 years of Science & Discovery on the St. Lawrence River this year. Other events planned this summer include:
Eco-friends Summer Day Camp – June 30 to August 15
Bat Workshop with Dr. Brian Hickey – July 23
The Buzz on Insects Workshop – August 16
About the St. Lawrence River Institute of Environmental Sciences
The River Institute was established in 1994 as a unique community partnership involving government, education, business and industry, and the Mohawks of Akwesasne. Its mandate is environmental research and education with a focus on the Great Lakes / St. Lawrence River ecosystem. It has earned an international reputation for its fresh water ecosystem research projects. In 2013, the Institute launched a new Applied Research and Technical Services Branch. Find out more here:
Categorised in: Environment, General, News