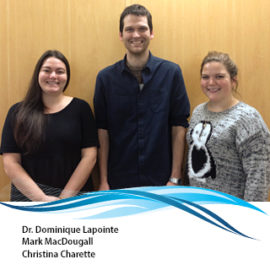 River Institute Grows Staff and Builds upon a Successful Year
December 18, 2015
Cornwall Ontario – The St. Lawrence River Institute of Environmental Sciences has recorded another successful year in furthering its mandate of environmental scientific investigation and education on and along the St. Lawrence River at Cornwall.
"We continue to grow our programs and push our services out to both the private and public sector," says Dr. Jeff Ridal, Director of the River Institute. "This expansion allows us to bring on additional staff to undertake important new research initiatives."
In the fall of 2015, Dr. Dominique Lapointe, was appointed the River Institute's newest Research Scientist.  A fish physiologist who has conducted research on fish metabolism in Asia, Africa, and South America, Dr. Lapointe comes to Cornwall by way of her work at Carleton University and The Virginia Institute of Marine Sciences.
Cristina Charette came on board as the River Institute's new Education Coordinator in May from Valleyfield, Quebec. She has a Bachelor's degree in Biology, Marine Sciences from the Université du Québec à Rimouski (UQAR), Rimouski (Québec) and has an MSc in Biology / Aquatic Ecology from the Université du Québec à Montréal (UQAM), Montréal (Québec).
Mark MacDougall came to the Institute in January to work with the growing Applied Research and Technical Services branch. He has a BSc in Environment from the University of Guelph and an MSc from Waterloo in Aquatic Ecology. Mark has worked with the provincial Ministry of the Environment and Climate Change and most recently with Grand River Conservation. He currently serves the branch as Biologist and Project Coordinator.
Dr. Ridal also noted that the relatively new Applied Research and Technical Services Branch of the River Institute is also achieving success.
"Since its inception less than 2 years ago, the Applied Research and Technical Services branch has grown into a well-established provider of integrated expertise with respect to technical and environmental solutions," says Dr. Ridal. "In particular 2015 has seen interest from a variety of businesses and industry partners from all over the province, and we are pleased with the new opportunities the Branch is bringing to the Institute."
About the St. Lawrence River Institute of Environmental Sciences
The River Institute was established in 1994 as a unique community partnership involving government, education, business and industry, and the Mohawks of Akwesasne. Its mandate is environmental research and education with a focus on the Great Lakes / St. Lawrence River ecosystem. It has earned an international reputation for its fresh water ecosystem research projects. In 2013, the Institute launched a new Applied Research and Technical Services Branch. Find out more here:
Categorised in: Environment, General, News