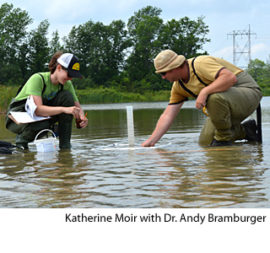 River Institute Investigates Rare Ontario Ecosystems
September 3, 2014
Cornwall Ontario – The research team at the St. Lawrence River Institute of Environmental Sciences is bit bigger these days, following the addition of a new member.
Katherine Moir, a recent graduate of St. Lawrence College's Environmental Technology Program, has recently come on board to conduct research into alvars, the rarest of Ontario's ecosystems, thanks to funding from Science Horizons and Environment Canada.
Katherine will work closely with Dr. Andy Bramburger as part of his ongoing work with Ontario's alvar habitats. Alvars are thinly-vegetated, shallow wetlands that develop on flat limestone or dolomite bedrock where the soils are very shallow. These ecosystems support many rare species of plant and animal life and alvar communities around the world are now in peril. Almost all Canadian alvars are found within the Great Lakes basin with a few of these unique ecosystems located here in eastern Ontario.
For the next six months Katherine will focus her research on a wetland area near Kingston, Ontario where one of these intricate ecosystems can be found. Local high school science students are also being recruited to assist her in the exploration of this living laboratory. The ultimate goal of the project is to develop a list of indicators that can predict eco-system health.
Originally from Ottawa, Katherine comes to this Science Horizons project and the River Institute in Cornwall by way of an interesting journey. A year ago, with a Psychology degree from Queen's University in hand, Katherine decided to pursue an interest in the environment by obtaining a hands-on education with St. Lawrence College. She specifically chose the Environmental Technology Program in Cornwall because of its connection to the River Institute and the College's access to Institute scientists as instructors. "I really made my decision to attend St. Lawrence College in Cornwall due to the fact that the program's teaching staff included PhD scientists who are experts in their respective fields."
In the last year, Katherine has volunteered many hours with a variety of River Institute projects. Accessibility to River Institute scientists who both undertake research and teach others has fuelled a growing interest in public science education that was developed while serving as an reenactor and interpreter for several summers at Old Fort Henry. Katherine not only looks forward to conducting the scientific research being carried out through this project but in interpreting the science in an accessible way for both the students she is working with and the community at large.
The additional learning and experience provided by this Science Horizon funding is an advantage for Katherine who hopes to pursue a Graduate Degree in Environmental Studies.
About the St. Lawrence River Institute of Environmental Sciences
The River Institute was established in 1994 as a unique community partnership involving government, education, business and industry, and the Mohawks of Akwesasne. Its mandate is environmental research and education with a focus on the Great Lakes / St. Lawrence River ecosystem. It has earned an international reputation for its fresh water ecosystem research projects. In 2013, the Institute launched a new Applied Research and Technical Services Branch. Find out more here:
Categorised in: Environment, General, News