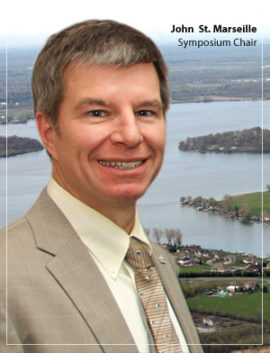 River Symposium Set For May 7-8 In Cornwall
April 25, 2014
Cornwall Ontario – For over twenty years each spring, the St. Lawrence River Institute of Environmental Sciences has brought together scientists to discuss fresh water issues at their annual International River Conference in Cornwall.
This year the River Institute and the City of Cornwall are celebrating the River Institute's 20th Anniversary by partnering together with other stakeholders to dive into a discussion on water and fresh water ecosystems.
The River Symposium will be held May 7 and 8 at St. Lawrence College in Cornwall. Organizers are expecting around 250 delegates.
May 7- Preparing for the Future Environments
The first day of the conference will focus on science and will feature a series of fresh water related topics presented by an international delegation of scientists. Subject matter experts on fresh water chemistry and eco -systems as well as fish biologists from Canada, the United States and Akwesasne will present information on a wide range of current environmental research that is taking place on and along the St. Lawrence River and Great Lakes systems.
May 8 – Surviving the Perfect Storm Managing your Water, Wastewater and Storm water Risks in Light of Climate Change
The second day is a community day and will focus on the topical theme "Managing your Water, Wastewater and Storm Water, Risks in Light of Climate Change". In light of unusual weather patterns and storm events that we have been experiencing in the last few years, municipalities and homeowners need to learn how to prepare for and respond to the new challenges being presented by these changes. Flooding across Ontario in recent weeks demonstrates the timeliness of the topic.
Special guests will include John St. Marseille, General Manager of Infrastructure and Municipal Works for the City of Cornwall who will speak on local challenges and opportunities for flood mitigation and community outreach.
"On behalf of the City of Cornwall, we are very pleased to be a partner in this timely symposium," said Mr. St. Marseille. "Through the Blueprint, the City has planned comprehensive steps to continue to address flooding, water management and environmental issues. These actions highlight the key linkages of science, engineering and public policy. We look forward to showcasing our activities and advancing our knowledge with symposium partners."
The lunch time keynote speaker will be Dereth Glance, Commissioner for the International Joint Commission who will speak on "Water Without Borders – the IJC and the Great Lakes and St. Lawrence River". Other speakers will address the governance behind minimizing risk, adapting municipal engineering, and the effects of catastrophic storm events on insurance.
River Rendezvous and Café
A River Rendezvous and Café will also be set up in Aultsville Hall's lobby on May 8 with a variety of displays and demonstrations from both sides of the St. Lawrence River that highlight local environmental and recreational groups connected to the great outdoors. The Rendevous will be open from 12:00 to 4:00pm and then again from 5:00 to 7:00pm.
Dr. Brian Hickey will also give a presentation that evening on the Natural History and Conservation of Bats. Dr. Hickey's presentation is free and open to all, and will take place from 7 to 7:30 pm.
There is still time to register for the Symposium! Check out www.riverinstitute.ca for a full schedule or call 613-936-6620 for more information.
Categorised in: Environment, General, News