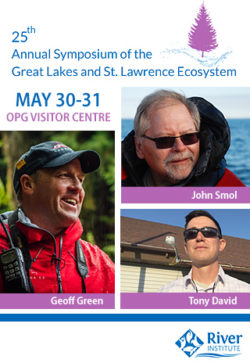 Scientists and Environmentalists Gather for 25th Annual Symposium
May 22, 2018
Cornwall Ontario – Scientists, environmentalists and members of the community will once again gather in Cornwall for the Great Lakes and St. Lawrence River Ecosystem Symposium.
The two day event takes place May 30 and 31 at the OPG Visitor Centre and is organized by the River Institute.
This year marks the 25th anniversary of the Symposium, which began in 1993 as a means to bring scientists and communities together to discuss freshwater issues. To celebrate, the River Institute is revisiting the theme from that very first conference: 'Sharing Knowledge ~ Linking Sciences'.
"The theme celebrates our founding partners and neighbours, the Mohawks of Akwesasne, and will highlight projects and programs that link ecosystem science and Traditional Ecological Knowledge (TEK)," says Dr. Jeff Ridal, who leads the River Institute. "We seek to develop a heightened awareness of the value of TEK and the stories that define our history as important pathways to engage people in environmental issues and inspire scientific inquiry and research, as has been our experience at River Institute."
The two-day symposium starts with a Community Science Day with a special presentation by Geoff Green, Expedition Leader of Canada C3. Mr. Green is one of Canada's most awarded educators and environmentalists. In 2017, Mr. Green led the Canada C3 expedition on a 150 day, 25,000 km sailing journey around Canada's coastline. Mr. Green speaks at 11am. Throughout the day there will be hands-on eco-science booths and interactive nature stations.
May 31 is a busy day full of seminars and workshops including presentations from two keynote speakers:
John Smol, Department of Biology, Queen's University
Tony David, Manager of Water Resources, Saint Regis Mohawk Tribe
There will be four sessions will feature a number of experts working in the field:
Ecological Consequences of the 2017 Flood
Community Action and Citizen Science
Progress on the St. Lawrence Remedial Action Plan
Development in Monitoring Technologies
The symposium is free to the community but you must register for the Wednesday.   Call 613-936-6620 x 0 or email to info@riverinstitute.ca
About the River Institute
The River Institute is a non-profit, charitable research centre located in Cornwall, Ontario, Canada. Its mandate is research, education and community action relating to large river systems, with a focus on the St. Lawrence River ecosystem. A non-governmental organization, the River Institute works in partnership with a wide variety of individuals, groups, agencies and communities to fulfill its environmental mission.
Categorised in: Environment