EORN Awards Contract for Expansion of Cell Services
March 23, 2021
Cornwall Ontari0 – Rogers Communications has been awarded a contract from the Eastern Ontario Regional Network to improve the coverage and capacity of cell networks in Eastern Ontario.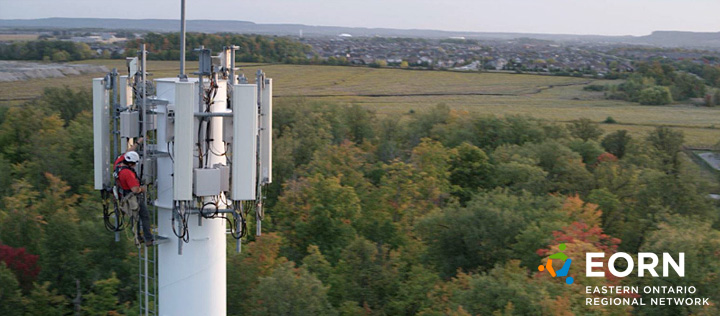 The EORN Cell Gap Project has a total investment value of more than $300 million, which includes investments from Rogers Communications as well as the federal and provincial governments who each contributed $71 million, along with an additional $10 million from the Eastern Ontario Wardens' Caucus and most municipalities within the Eastern Ontario Mayors' Caucus.
The City of Cornwall has contributed just under $300K to the project.
"The investment that Rogers Communications is making in our region has exceeded our expectations and we look forward to working with their team to strengthen cellular networks across the region," said J. Murray Jones, Chair of the Eastern Ontario Regional Network. "We also appreciate the support of our federal and provincial partners. Together we're building on the investment we've already made in broadband infrastructure to deliver value and quality in closing the gap in mobile services."
About the Project
To better serve rural Eastern Ontario, an area of some 50,000 square kilometres, The EORN Cell Gap Project will involve construction of more than 300 new telecommunication sites and will upgrade more than 300 existing sites over the next four to five years. Upgrades and construction will begin as early as this spring. Powered by Ericsson, Rogers brings the latest generation in 5G wireless network technology, which over time will deliver unprecedented speed, instant response times, and fast, reliable connections that transform how people live and work. New services will be activated as groups of towers are built or upgraded. The project is to be completed in 2025.
The Canadian Radio-television and Telecommunications Commission (CRTC) has designated both mobile and fixed broadband as basic services for all Canadians. The project is designed to improve cell coverage across the area where people live, work and travel. It aims to provide:
99 per cent of the area with voice calling services.
At least 95 per cent of the area with standard-definition (SD) level services, such as video-app calls, basic app usage and streaming of SD video.
At least 85 per cent of the area with service levels that can support streaming high-definition video and more data-intensive apps.
Additional investments will increase capacity of networks in high density, high usage areas.
About EORN
The Eastern Ontario Regional Network (EORN),  is a non-profit organization created by the Eastern Ontario Wardens' Caucus (EOWC) to improve and leverage cellular and broadband access to fuel economic development and growth.
EORN's previous project involved the construction of a 5,500-km fibre-optic network throughout Eastern Ontario which resulted in improved wired and wireless connectivity for residents and businesses. The City of Cornwall supported that project, and as a result saw significant investments in the local communications infrastructure. In 2017, Xplornet Communications established a $40 million regional office in Cornwall, a direct result of the EORN project. Xplornet now employs over 130 people in Cornwall.
For more info, check out the following online resources: