Explore Aviation Summer Camp Returns for Second Year
January 29, 2019
Cornwall Ontario – Teens looking to "leave ordinary behind" have an opportunity to attend NAV CANADA's Explore Aviation Summer Camp this summer.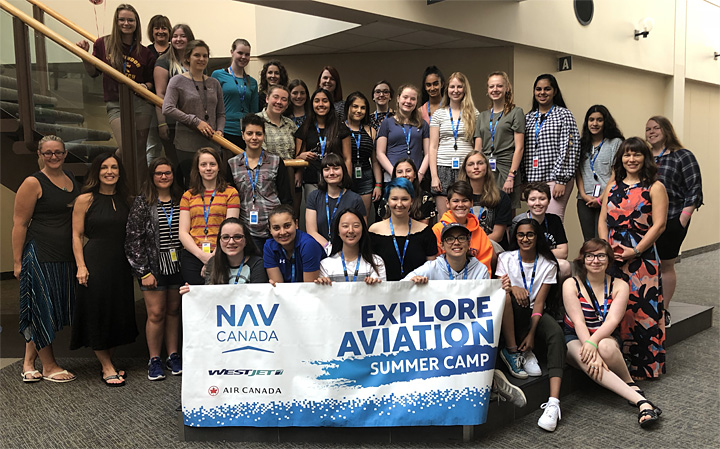 This year, 24 young women and 24 young men from across Canada will gather at the NAV CENTRE in Cornwall for a week of learning, fun and friendship with a focus on aviation. Last summer, 30 students attended the first edition of the camp and it was an experience they described as "awesome" and "one of the best weeks of my life".
"For me the interesting part is that you get to see the layers of aviation," explained camper Monica Muresan who attended the camp last year. "We would say 'there's the pilot, there's the person in the tower' but there's so many people in between and there's so many career opportunities. I feel that I can go anywhere."
The Explore Aviation Summer Camp points the spotlight on careers in aviation, where STEM (science, technology, engineering and mathematics) education is the key to success for tomorrow's workforce. Over the course of a week, participants will have unique and exciting opportunities, such as:
Learning how Canada's aviation system works and who makes it work
Engaging in practice sessions controlling and advising aircraft in industry-leading simulators
Trying out the tools and technology to keep aircraft flying and safe
Touring NAV CANADA's Flight Inspection Aircraft
Interacting with guest speakers: Air Traffic Services; Technical Operations; Engineering; Leaders
Taking day trips to Ottawa and Montreal: NAV CANADA tower and area control centre tours; city tours
Students looking to apply must do so before March 8, 2019. Participants will be chosen from across Canada by a NAV CANADA committee made up of aviation professionals.
Details
​Who can apply
Teens going into Grade​​ 10 (or secondary 4 in Quebec) in September 2019
​Where
NAV CENTRE, Cornwall, ON, with day trips to Montreal and Ottawa
​When
Young women: July 14-19, 2019
Young men:​ August 11-16, 2019
​Cost
No cost to participants. Explore Aviation Summer Camp is paid for by a NAV CANADA bursary, which includes flight, room and board for the week.
Application Details
Applications must include:

A completed application form
An essay explaining why you want to attend Explore Aviation Summer Camp (350 to 500 words)
A letter of recommendation from a teacher or community leader

​More Info
http://www.navcanada.ca/EN/careers/Pages/Explore-Aviation-Summer-Camp.aspx
About NAV CENTRE
The NAV CENTRE is a training and conference facility overlooking the St. Lawrence River in Cornwall Ontario. It offers access to 550 guest rooms, 70 state-of-the-art classrooms and meeting rooms, as well as an auditorium. Other amenities include a gymnasium and fitness facilities as well as restaurant and pub. The NAV CENTRE is owned and operated by NAV CANADA and is an accredited member of the International Association of Conference Centres (IACC), offering globally-recognized standards in hospitality service.