Fairy Sweet Opens Downtown Gourmet Bakery
February 1, 2019
Cornwall Ontario – Downtown Cornwall just became a little bit sweeter with the opening of Fairy Sweet gourmet bakery.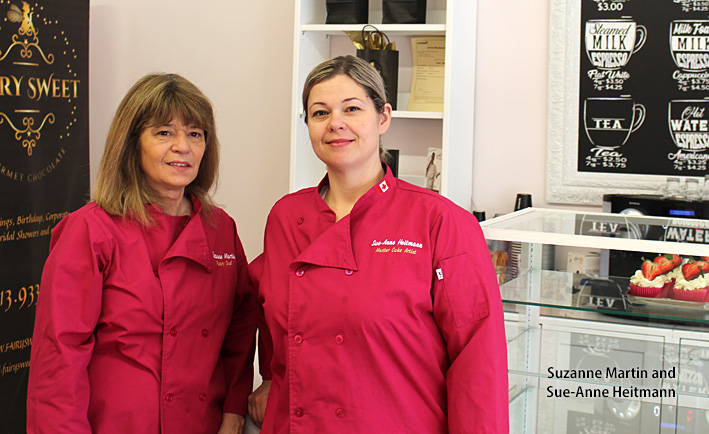 "We love the atmosphere downtown and we're excited to bring our own brand of cakes, desserts and positivity to the heart of our city" says Sue-Anne Heitmann, who co-owns the business with her mother Suzanne Martin.
Fairy Sweet is a popular chocolatier by catering to the sweet tooth desires of residents and visitors alike. The bakery makes a wide range of chocolates, cookies and cheesecakes. Customer favourites include turtle bars, peanut butter cups, Parisian macarons and organic maple butter. They even offer a peanut free peanut butter cup for those with allergies.
Baked goods can be purchased individually or in pre-made gift bags. A wide range of espresso is also available.
The award-winning small business was started in 2013 as a home-based operation. The new storefront represents a major evolution of the business, and was facilitated by winning last year's Win this Space competition.
"Fairy Sweet's growth has been exciting to watch and we can only expect more of the same with their new downtown location, " says Candy Pollard, Business Consultant at the Cornwall Business Enterprise Centre. "The new store will offer a high profile location and give stability to the business."
Fairy Sweet to walk in business as well as catering to special events such as weddings, birthdays and showers, as well as custom orders for companies and organizations.
Fairy Sweet can be found just west of the Pitt and Second intersection at 11 Second Street W, beside Gordon's Jewellers. The bakery is open Tuesday to Friday from 8am to 5pm and on Saturday from 9am to 5pm.
You can reach Fairy Sweet at (613) 933-7040 or connect with them online: