Fall 2022 Entrepreneur Roundtable Set for November 10
November 7, 2022
Cornwall, Ontario – The Cornwall Business Enterprise Centre Entrepreneurship Roundtable welcomes three local entrepreneurs to The Lost Villages Brewery on Thursday, November 10 to share their personal small business journey.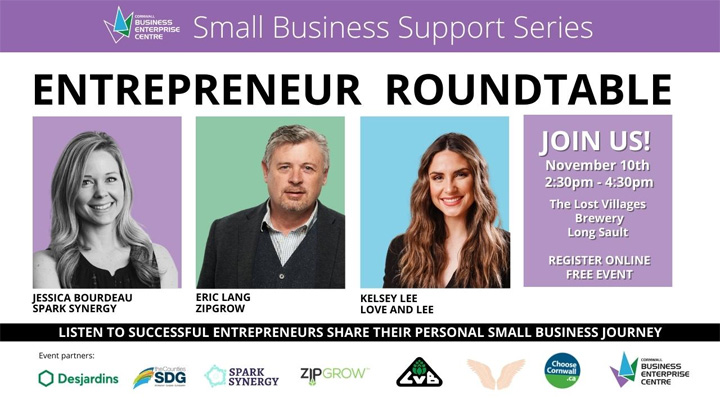 The event is a platform for new entrepreneurs to learn from experienced business owners, gain valuable insights into entrepreneurship and receive advice on starting a business and the entrepreneurial journey. Participants will have the opportunity to ask questions directly to the panelists in an informal setting.
"We are looking forward to the conversation with all three panelists," says Shauna Baggs, Business Consultant at the Cornwall Business Enterprise Centre. "One of the best ways to grow and develop as a business is to learn from our peers. The entrepreneur roundtable is a perfect way for new businesses to learn and build their support network within the community."
The panelists include:
Eric Lang is the president and co-founder of ZipGrow Inc.; an international leader in indoor vertical farming technology, empowering people to grow fresh food locally and sustainably. An experienced professional and entrepreneur, he has a history of creating high-growth companies in sectors ranging from plastics manufacturing to wholesale commodity trading.
Kelsey Lee is the creator of Love & Lee Bridal Boutique in Cornwall. Her passion for creating an exceptional experience for brides and bridal parties shines bright in her Pitt Street retail location. Kelsey has been a life long entrepreneur from a young age, taking part in the CBEC Summer Company program and later Starter Company Plus to help launch her business.
Jessica Bourdeau is the owner of Spark Synergy and is a people-centric Workplace Synergist who draws on her unique blend of experience, education and animated enthusiasm to help create higher performing teams and happier, healthier workplaces. Throughout her career, Jessica held various positions within the public, private and nonprofit sectors before launching her own business, Spark Synergy, in 2019.
Event Details
There is no cost to attend the Roundtable, and the event is open to all. Advance registration would be appreciated.
The event will take place on November 10, 2022 at 2:30pm and will last approximately 2 hours. The Lost Villages Brewery is located at 16133 County Rd 36 in Long Sault.
About the Cornwall Business Enterprise Centre
The Cornwall Business Enterprise Centre is operated by Cornwall Economic Development in partnership with the Ministry of Economic Development, Job Creation and Trade. It provides information and support to entrepreneurs during start‐up and growth stages of business operation, in addition to holding a number of seminars and workshops on timely topics.