Fall Seminar Series Aimed at Entrepreneurs
September 9, 2019
Cornwall Ontario –  Entrepreneurs looking to up their game will be able to take advantage of a number of seminars and workshops this fall.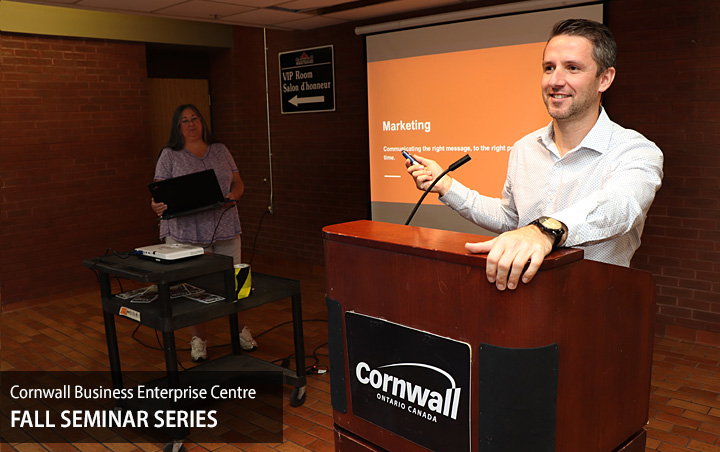 The Cornwall Business Enterprise Centre will be organizing 6 seminars over several weeks starting at the end of September, covering topics such as real estate, tourism, marketing and finance. The seminars are being offered in partnership with RBC and its all part of celebrating small business that will culminate in Small Business Month in October.
"We are pleased to be able to provide seminars on different topics of interest to small businesses," said Candy Pollard, Business Consultant with the Centre. "This events are a great way to enhance your business skills and to meet other entrepreneurs and share ideas."
Fall Seminar Series
The series will kick off with a seminar hosted by Cornwall Tourism, followed by presentations from Mireille Lemire from RBC, Bernard Charlebois of Boum Strategies, Terry Landon from Remax Cornwall, as well as Candy Pollard and Ryan Kuhn from the Cornwall Business Enterprise Centre.
September 27 – Tourism Opportunities for Small Business
October 2 – The Business of Space
October 9 – Business Planning
October 16 – Financing Commercial Real Estate
October 23 – Starter Company Plus
October 30 – Lead Generation
The fall seminars are a continuation of the Centre's popular spring seminar series hosted this past May. There is no cost to attend the seminars, however, attendees are asked to register in advance.
"We know that small business owners are busy people so we have tailored the seminars to meet their needs," says Ryan Kuhn. "The seminars are relatively short in terms of time, but are full of useful information on topics that we know are of interest to entrepreneurs."
Registration Info
Seminars are open to all business owners, staff and prospective entrepreneurs in Cornwall, Akwesasne and SD&G. To register for any of the seminars please visit the Eventbrite link below to reserve your seat.
Other Business Events
The Business Enterprise Centre actively organizes and supports over a dozen professional education seminars and workshops throughout the year, including the annual Cornwall and Area Job Fair on October 16 and the Bridges to Better Business event on October 22. Local business events can be found on BizzBuzz.ca
About the Cornwall Business Enterprise Centre
The Cornwall Business Enterprise Centre helps small business owners and entrepreneurs succeed in Cornwall, Stormont, Dundas, Glengarry & Akwesasne by offering information, tools and support during the start-up and growth stages of business operation. This includes administration of the Summer Company and Starter Company PLUS programs. The Cornwall Business Enterprise Centre is operated by Cornwall Economic Development and funded in part by the Government of Ontario.
The Cornwall Business Enterprise Centre is located at 100 Water Street East (Cornwall Civic Complex) and can be contacted by phone at 613-930-2787 x2276 or online at: