Fancy Feet Reflexology Puts Their Best Foot Forward
April 11, 2019
Cornwall Ontario – There are no aches or pains involved in this growth spurt, as Fancy Feet Reflexology expands to their new location here in Cornwall.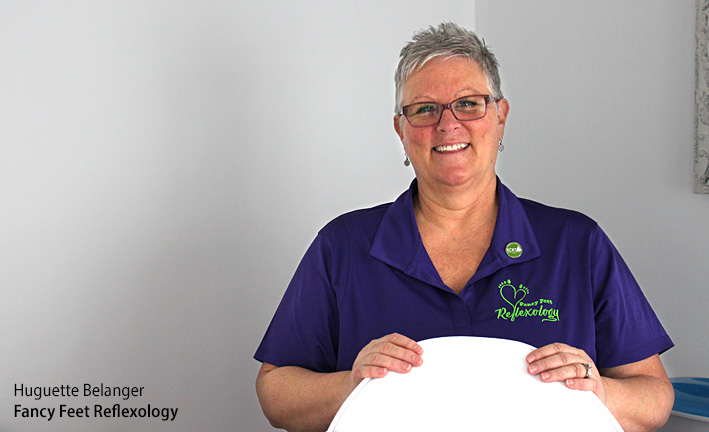 Reflexology may be new to some but the therapy dates back thousands of years. Huguette Belanger, owner of Fancy Feet Reflexology, is excited to offer this recently burgeoning therapeutic relief to the residents of Cornwall and area.
Reflexology is a natural therapeutic method based on the principle that there are reflexes in the body that map to other parts, glands, and organs of the body. Reflexology is "a system of applying pressure, usually to the feet, which practitioners believe stimulates energy and releases blockages in specific areas that cause pain or illness," according to the Australian Government Department of Health. This treatment releases toxins from the body and restores blood circulation throughout the body.
"I enjoy making each of my clients feel special in their own way by paying attention to their own specific needs and ailments," says Belanger. "I want my clients to believe that the services I offer will help them restore the normal flow of circulation especially in the areas affected by an ailment."
Ms. Belanger offers services at her new location on the corner of Second Street West and Cumberland but also offers on-site services for those with mobility issues. In addition to reflexology therapy, Fancy Feet also offers Reiki energy healing and pedicures for reflexology clients.
"The foot treatment I offer is specialized. I often include a quick pedicure which includes nail clipping/filing as well as heel filing," says Ms. Belanger. "One of the reasons I have added pedicures to my reflexology services is that I am often presented with nail disorders and diseases. These symptoms are often related to symptoms generated by the client's internal organs and glands or sanitation issues."
According to the Reflexology Association of Canada, clients have reported several benefits that include:
Reduced stress
Improved relaxation
Released tension
Decreased pain
Improved body function
Enhanced wellness
Increased strength
Increased mobility
Fancy Feet Reflexology is located at 338 Second St W Unit 3, across from Rookeez Edge. Hours of operation are:
Monday – Thursday: 10 am – 7 pm
Friday – Sunday: Closed
Fancy Feet Reflexology can be reached by phone at (613) 362-5756 or online at: