FanSaves Founder Represents Canada on International Stage
August 5, 2022
Cornwall, Ontario – Cornwall and Stormont, Dundas and Glengarry were represented throughout the United States by local Fan Saves founder Shannon Ferguson at the 2022 Young Leaders of the Americas Initiative (YLAI) program on a Collaboration Grant.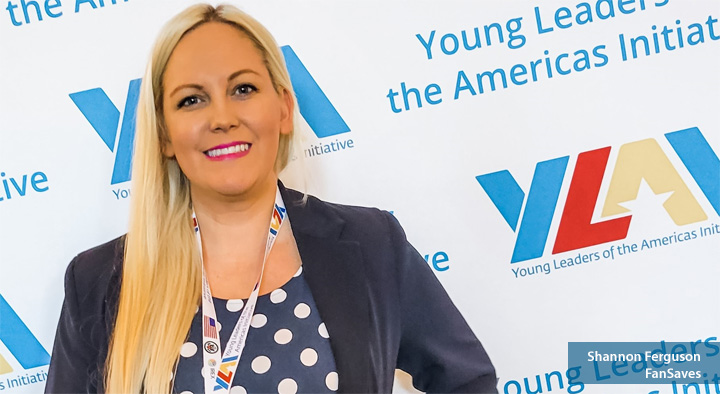 Ferguson completed the prestigious YLAI Program as a fellow in 2021 but pandemic restrictions moved her cohort virtually. The Exchange Program is run by the US Department of State and was launched in 2015 by the Obama Administration. Each year, YLAI brings over 250 emerging entrepreneurs from the Western Hemisphere (Latin America, the Caribbean and Canada) together throughout the US, while helping to enable the full economic potential of the region's citizens.
"Being chosen as an alumnus to participate in YLAI 2022 was such an honour and coming together with hundreds of young entrepreneurs who are doing incredible things was inspiring," said Shannon.
This year, the YLAI program resumed in-person and Ferguson was the only Canadian to be selected from the 18 2021 alumni to receive a competitive Collaboration Grant.  The grant provided the chance to participate in a two-week exchange and attend the week-long Closing Forum in Washington, DC.  Her exchange took place in San Diego, California where she continued her work with Stella Co. and the Women's Venture Summit, helping to plan the upcoming conference that brings women founders and investors together each September.
The Cornwall Business Enterprise Centre is proud to have given Ferguson support to launch FanSaves as part of the Starter Company Plus program.  The last few years have illustrated the potential that can be achieved by small business owners in our region.
"I'm so proud to have grown up in Cornwall and to be part of this community. Being able to represent this area at a global level and letting others know that it's possible to grow a scaling startup from a rural community is incredible and something Kris and I never take for granted" explained Ferguson.
In July, Ferguson won a Forty Under 40 award in Canada's National Capital and was invited to speak on a panel at the US Embassy to Canada at the Greater Philadelphia Trade Visit to Canada.
As the Co-Founder & CEO of the tech startup, FanSaves, a digital couponing platform that provides users with deals from the sponsors and partners of their favourite sports teams, membership organizations, events and more.
Cornwall Tourism has partnered with FanSaves and their Explore Cornwall program highlights local businesses and incentivizes locals and visitors alike with coupons to explore the city
To learn more about FanSaves or to download the app, visit: Visit www.fansaves.com or download the app on the App Store and Google Play Store.