FanSaves wins RC100 Startup Competition
August 15, 2019
Cornwall, ON – After three intensive rounds of competitive down-selection, FanSaves has won the RC100 Startup competition, securing $100,000 in early-stage investment from Renfrew County Community Futures Development Corporation (CFDC).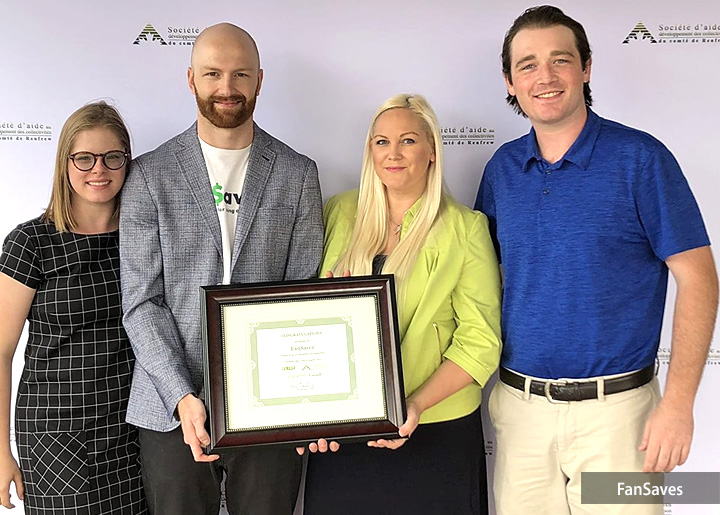 The local tech startup was one of 28 companies participating in the RC100 competition. Founders Shannon Ferguson and Kris McCarthy attended the SRB Technologies Inc. RC100 Startup Reception on Wednesday evening, hoping FanSaves' name would be called. The evening culminated with two thrilled business owners who are excited about what this win means for the future of their company.
"We want to prove that you don't have to live in Silicon Valley to be a successful tech company," says Shannon Ferguson. "The RC100 investment will make this possible."
RC100 was designed to accelerate high growth potential start-ups and to position them for follow-on investment, with the $100,000 convertible note supporting key milestones in the start-ups' development, such as finalizing a prototype. The competition took place over three rounds including The Pitch, Business Planning and Negotiation.
The two-year-old startup has seen much growth in the past couple of months and is in discussions with major league teams and an entire junior hockey league in the US. The platform now features 20 teams from across Ontario and in the United States including teams in New York, Connecticut and North Dakota.
Next up for the business on the pitch circuit, FanSaves has once again been selected as a Top 100 Startup of the Year Semi-Finalist and will be competing in the international competition in Memphis, TN in October. The duo also participated at the Global Get in the Ring pitch competition in Berlin, Germany in June, where they represented Canada.
To learn more about FanSaves or to download the app, visit:
FanSaves was a participant in the Starter Company PLUS program offered through the Cornwall Business Enterprise Centre and the company.
About the Cornwall Business Enterprise Centre
The Cornwall Business Enterprise Centre helps small business owners and entrepreneurs succeed in Cornwall, Stormont, Dundas, Glengarry & Akwesasne by offering information, tools and support during the start-up and growth stages of business operation. The Cornwall Business Enterprise Centre is operated by Cornwall Economic Development and funded in part by the Government of Ontario.
The Cornwall Business Enterprise Centre is located at 100 Water Street East – the Cornwall Civic Complex, and can be contacted by phone at 613-930-2787 x2276 or online at: