Farm Boy Ranked First in Customer Experience
January 10, 2019
Cornwall Ontario – Specialty grocery stores seem to have the recipe for success when it comes to customer experience. In Leger's "2018 Wow Customer Experience Index" for Ontario, Farm Boy was ranked number one in customer experience.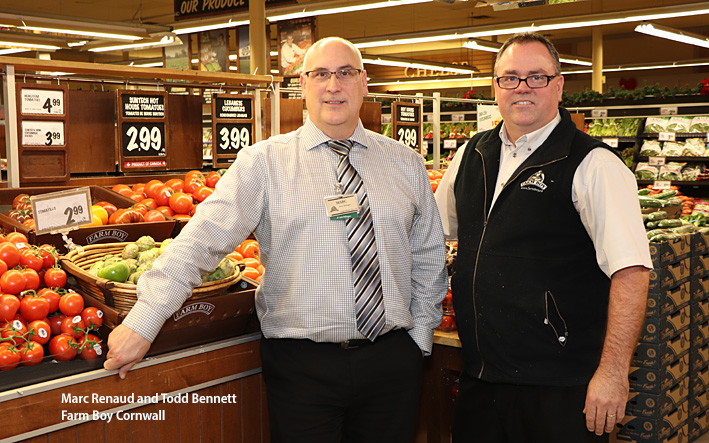 "The smaller, specialty concept grocery stores tend to come out on top, which isn't too much of a surprise because of the variables that make up the index," says Christian Bourque, executive vice-president at Groupe Léger. Groupe Léger is the largest Canadian-owned polling and market research firm.
The ranking is based on an evaluation of the customer experience at retailers in various sectors via online surveys with more than 15,000 Ontarians and 15,000 Quebeckers. Each retailer was assessed by 400 of its recent customers, from mid-September to mid-October. There are 16 variables, including store ambiance, staff courtesy, sense of belonging, product quality, and drive and innovation.
"Contrary to traditional supermarkets, the smaller, specialty stores always have new brands and new products," says Bourque. "At Farm Boy, for example, a lot of what they do is fresh, ready-to-eat [foods] and there's always something new on the menu. So, it's hard for a traditional store to compete with what the smaller ones are doing."
Farm Boy is a Canadian – and Cornwall – success story. The first store was opened in Cornwall by Jean-Louis Bellemare in 1981. With the help of his brothers, the business expanded into a larger store in Cornwall in 1984 and then to Ottawa in 1992, delivering a fresh market experience that has proven very popular with shoppers. Farm Boy has since grown to become a major retailer in Ontario, with 27 stores in 12 different cities – with more to come.
"We are very proud to be the original Farm Boy store and our entire team works hard to make sure our customers have the very best experience possible," says Marc Renaud, Cornwall's Store Manager.
ONTARIO SUPERMARKET CUSTOMER EXPERIENCE RANKING
1. Farm Boy – 80.9
2. Fortinos – 76.1
3. Longo's – 72.1
4. Whole Foods – 71.3
5. Zehrs – 70.1
6. Real Canadian Superstore – 69.4
7. Costco – 69.2
8. Sobeys – 67.7
9. Your Independent Grocer – 67.6
10. Loblaws – 64.1
About Farm BoySelected as one of Canada's 50 Best Managed Companies, Farm Boy features signature farm-fresh produce, organic, natural and locally sourced foods, a full selection of premium meats, artisan cheese, sustainable seafood and private label brands as well as their popular fresh prepared meals, made from scratch in the Farm Boy Kitchen.The Farm Boy in Cornwall is located at 814 Sydney Street and is open 7 days a week.