FedDev Ontario Announces New Funding
March 12, 2019
Cornwall Ontario – Canada's ability to remain competitive in the fast-paced and increasingly global economy is closely tied to the strength of southern Ontario's economy.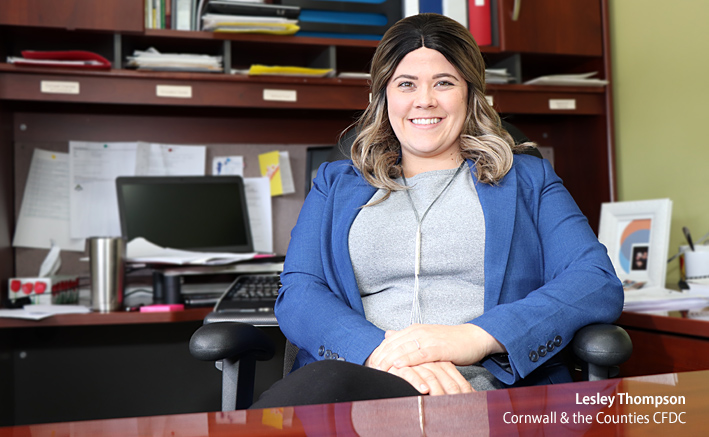 The Federal Government recently announced over $1 billion in funding for FedDev Ontario to continue to foster growth in southern Ontario. The funding includes $100 million to support projects in rural southern Ontario over 3 years, with $15 million specifically going to CFDC agencies in Eastern Ontario for 2 years.
"With this new funding, FedDev Ontario will continue to scale-up innovative businesses, strengthen innovation networks, and boost economic growth in local communities to create good, middle-class jobs in one of Canada's most vital economic hubs," said Navdeep Bains, Minister of Innovation, Science and Economic Development and Minister responsible for the Federal Economic Development Agency for Southern Ontario. "By engaging directly with Canadians living and working in southern Ontario, we are ensuring FedDev Ontario's investments will reflect the unique strengths and opportunities of this region."
FedDev Ontario is one of Canada's six regional development agencies, and delivers funding and business services that support innovation and growth in southern Ontario –  a large region that extends from Cornwall to Windsor. Since inception in 2009, FedDev Ontario has invested almost $2 billion in southern Ontario's economy, resulting in partnerships with over 19,500 organizations through over 3,200 projects.
Projects can now be submitted using a single application, through three simplified funding streams, which have been designed to meet the needs of business, entrepreneurs, innovation partners and communities.
Cornwall companies are able to take advantage of this funding through the Cornwall & Counties Community Futures Development Corporation (CFDC).
"A Rural Renaissance is upon us. This is evidenced both by the recent announcement of a fully-dedicated Ministry of Rural Economic Development and in this announcement by FedDev Ontario dedicating $100 million over three years for projects in rural southern Ontario." says Lesley Thompson, Executive Director of the Cornwall & Counties CFDC. "The importance rural regions play on the larger Canadian economy is paramount. We are perfectly positioned to support business scale-up, attract top talent, foster innovation and connect globally. We encourage interested businesses to contact our office to learn more."
FedDev Ontario is looking for innovative projects in southern Ontario that will:
Increase the number of high-growth firms.
Strengthen key clusters and build on areas of regional innovation strength.
Increase the commercialization of new and innovative technologies, products or processes.
Increase business investments in the adoption/adaptation of leading-edge technologies.
Create and maintain highly skilled jobs.
Increase the value of exports.
Promote inclusive growth and participation of traditionally underrepresented groups such as women, Indigenous and young entrepreneurs.
Strengthen opportunities and networks to drive growth, and support the attraction and retention of businesses and talent to southern Ontario's smaller communities and rural areas.
About Cornwall & The Counties CFDC
Cornwall & The Counties CFDC, through funding from the Federal Economic Development Agency for Southern Ontario (Fed Dev Ontario) delivers a wide variety of programs and services to support community economic development and small business growth. It employs local staff and are governed by a volunteer board of directors, made up of residents representing the community.