FedDev Ontario Invests in SigmaPoint Technologies
March 3, 2021
Cornwall, Ontario  – The Federal Economic Development Agency for Southern Ontairo (FedDev Ontario) is investing $1 million to help SigmaPoint Technologies boost manufacturing capacity, support made-in-Canada production and add new jobs at its Cornwall headquarters.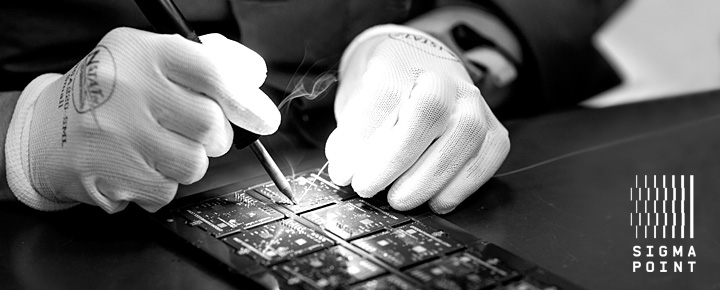 "Today's announcement for SigmaPoint demonstrates our government's commitment to keep businesses thriving and moving forward in the face of this pandemic," said Kate Young, Parliamentary Secretary to the Minister of Economic Development (FedDev Ontario) and Official Languages. "We are doing our part to help our rural manufacturers boost production and strengthen our domestic supply chains, while creating high-quality jobs that will attract unique talent to Cornwall."
As one of Cornwall's major employers, this project will help SigmaPoint grow its team to 370 employees by adding 12 high-quality jobs, primarily in the fields of science, technology, engineering and math.
"With support from FedDev Ontario, SigmaPoint will expand capacity, simplify our local supply chain, implement Industry 4.0 Lean Manufacturing and be at the forefront of creating a Smart Factory Lean Enterprise," said Dan Bergeron, President and Chief Executive Officer of SigmaPoint. "We are proud of our people, our community and the opportunity to have the Government of Canada recognize SigmaPoint's efforts to grow advanced manufacturing jobs locally."
SigmaPoint supplies end-to-end assembly services for specialized electronic and technology products, such as servers that enable high-speed internet for global connectivity and critical monitoring equipment for nuclear power stations. With FedDev Ontario support, SigmaPoint will improve and expand its production capacity by acquiring Industry 4.0-ready equipment and adopting lean manufacturing principles. The equipment will offer real-time analytics, helping the company to understand where and when bottlenecks occur, which will improve the overall speed of the operating line. This serves to increase product output from 35 to 50 percent, while maintaining the highest quality.
"SigmaPoint continues to demonstrate that the application of strategic thinking to any project will lead to success," says Mayor Bernadette Clement. " I applaud the Government's decision to support SigmaPoint as they expand production and attract more skilled workers to Cornwall."
At the forefront of lean manufacturing, SigmaPoint is reinforcing its commitment to keep electronic manufacturing in Canada and support the production of Canadian-made products, demonstrating to other EMS providers how to boost efficiency and keep or return production to Canada.
Quick Facts
Advanced manufacturing has contributed to a large share of job creation, accounting for half of the approximately 45,000 skilled jobs created in Ontario since 2010.
SigmaPoint Technologies  supplies computer, telecommunications, defence, alternative energy, medical, industrial and transportation markets from its manufacturing facility located in the Cornwall Business Park.
As part of a recent national effort to produce Canadian-made ventilators, SigmaPoint partnered with the Government of Canada and CAE Inc. to fill an order of 10,000 ventilators for hospitals across Canada to use in the fight against COVID-19.
FedDev Ontario's investment will leverage an additional $5.9 million in provincial and private sector funding.
FedDev Ontario has previously provided more than $1 million in support for SigmaPoint Technologies through repayable contributions to add a new high-speed production line at its Cornwall facility and to stimulate growth for the company and the rural Eastern Ontario economy.
Since November 2015, FedDev Ontario has invested $555.7 million in 322 manufacturing projects across southern Ontario.
Associated links