FedDev Ontario Supports Local Employers and City with Funding
February 17, 2023
Cornwall Ontario – FedDev Ontario recently announced several investments in Cornwall and region that will help position the region for future growth and prosperity.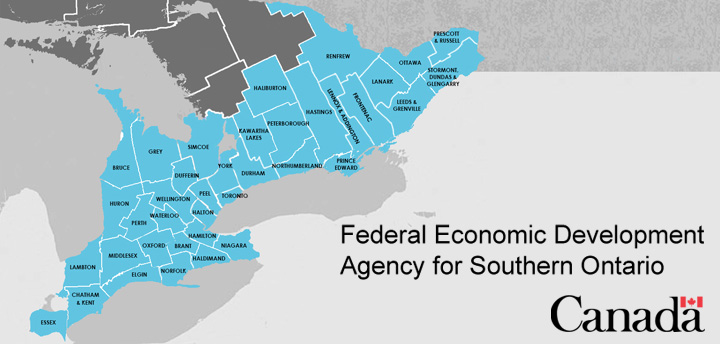 This investment was announced by the Honourable Filomena Tassi, Minister responsible for FedDev Ontario on February 13, 2023 along with 30 other projects.
"When we invest in business owners' potential, we invest in a strong future for our country," said Minister Tassi. "By supporting organizations and businesses across Eastern Ontario, our Government is contributing to a growing region that will continue to support Canada's economy and create many good jobs. We are making smart investments that put people first and set local communities on a path to success."
This City of Cornwall will be receiving a Government of Canada investment totaling $495,000 as part of the Canada Community Revitalization Fund, delivered by the Federal Economic Development Agency for Southern Ontario (FedDev Ontario). Part of the funding ($345,000) will be used to upgrade and extend recreation path lighting in Lamoureux Park to increase safety, accessibility and overall usability of the park year-round. The remaining $150,000 will go towards expanding the City's network of multi-use paths by approximately 320m on Power Dam Drive to enhance connectivity within the City's active transportation network. Both projects have been completed.
"The City of Cornwall is a great place to live and work – in part due to our world-class amenities such as our waterfront parks and multi-use recreational paths," said Mayor Justin Towndale. "This investment by FedDev Ontario is a welcome contribution that has allowed us to add lighting to Lamoureux Park and extend our network of paths so that residents and visitors alike can enjoy our waterfront."
Investment in Local Businesses
Local employers Biscuits Leclerc and Fieldless Farms led the way for the private sector.  Leclerc will receive $5 million to install new manufacturing equipment to support increased manufacturing capacity, allowing the company to produce peanut-free products to meet growing demand. Fieldless Farms will receive $2.5 million to support the company's growth and diversification plans through the deployment of a world-leading produce-growing system and the development of a fully automated in-house processing and packaging line for the production of environmentally sustainable, high-quality, domestic leafy-green food products.
"Support from FedDev Ontario will help Fieldless realize a significant expansion in Cornwall, adding jobs and continuing to scale up our capacity to produce more delicious leafy greens 365 days a year," said Jon Lomow of Fieldless Farms. "We applaud the Government of Canada's foresight and investment in sustainable food sovereignty."
In addition to the above, FedDev Ontario also supported recreation and community projects in the Townships of North Glengarry, South Glengarry, North Stormont, South Stormont and South Dundas, as well as other locations in the United Counties of Prescott Russell. You can view the list of the 30 recipients here.
Quick Facts
Eastern Ontario is a rich and diverse region with strong links to the advanced manufacturing, food and beverage, and tourism sectors.
Biscuits Leclerc produces its popular selection of breakfast bars at its state-of-the-art production facility in the Cornwall Business Park.
Fieldless Farms is a modern food and Controlled Environment Agriculture company focused on solving food sovereignty and sustainability, and is also located in the Cornwall Business Park.
Cornwall is a bilingual community in Eastern Ontario and is situated on the St. Lawrence River an hour's drive from both Ottawa and Montreal. The city is home to world-class companies in the logistics, food processing and manufacturing sectors.
The City of Cornwall has a comprehensive network of 40 kilometres of recreational paths that allow people to walk and bike along the St. Lawrence River and throughout the city. A key activity hub in this network is Lamoureux Park, which connects the waterfront to Downtown Cornwall.
Since 2015, the Government of Canada, through FedDev Ontario, has invested nearly $60 million in more than 105 projects in the Counties of Prescott-Russell, the Counties of Stormont, Dundas and Glengarry and the Counties of Leeds and Grenville, which are anticipated to create and maintain over 5,850 jobs.
The projects listed above are funded in part by the Government of Canada through the Federal Economic Development Agency for Southern Ontario (FedDev Ontario).
 Associated Links
About FedDev Ontario
For 13 years, the Government of Canada, through FedDev Ontario, has worked to advance and diversify the southern Ontario economy through funding opportunities and business services that support innovation, growth and job creation in Canada's most populous region. The Agency has delivered impressive results, which can be seen in southern Ontario businesses that are creating innovative technologies, improving productivity, growing revenues, creating jobs, and in the economic advancement of communities across the region. Learn more about the impacts the Agency is having in southern Ontario by exploring their pivotal projects, our Southern Ontario Spotlight, and FedDev Ontario's Twitter, Facebook, Instagram and LinkedIn.