Fieldless Farms Seals Deal With Farm Boy
August 5, 2020
Cornwall Ontario –  Products grown in Cornwall by Fieldless Farms have hit the shelves in Farm Boy stores.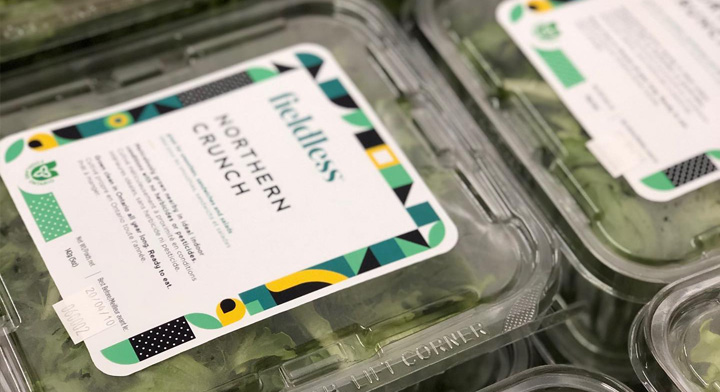 This is an important step for the company, a local Controlled Environment Agriculture start-up, which aims to bring year-round local produce to Canadians and reduce the country's dependency on foreign imports.
"Canada imports $48 billion worth of food each year. We rely on other nations to feed us, and it's risky—consider the supply chain impacts of Covid-19 an early warning," said Fieldless Farms CEO Jon Lomow. "Thankfully, it presents a massive economic opportunity for the country. New technologies are unlocking possibilities for safer, more secure and sustainable food to be produced in Canada, 365 days a year. Forward-thinking, discerning and trusted retailers like Farm Boy will be crucial early partners in making that happen."
The company's first farm in the Cornwall Business Park – which grows leafy greens using highly controlled indoor environments, renewable energy, and without herbicides or pesticides—reached full commissioning and CanadaGAP certification earlier this month.
The Farm Boy deal comes just one year after Fieldless quietly closed a $3 million first round of funding from local investors and Farm Credit Canada (FCC).
"Companies like Fieldless Farms are an important piece of the puzzle for improving Canadian food security," said Craig Hedden, relationship manager at FCC. "FCC is proud to support this young and innovative company, which values inputs from Canadian agriculture and offers consumers healthy, quality products. The current impacts of COVID-19 remind us of the crucial role played by our agricultural producers and our food processors, who feed Canadians and the world every day."
Canada currently imports well over 90% of its lettuce from the southern US – $500 million annually – specifically grown to withstand the journey over thousands of kilometres to centralized packing facilities and eventually to store shelves. In fact, Canada has the largest lettuce trade deficit in the world. And recalls, often due to lax oversight, are on the rise too. We now expect at least one leafy green recall every year due to food borne pathogens. Fieldless Farms plans to increase leafy green capacity significantly to address this market with safe and affordable products, but the company also plans to add other crops over time.
"We've tailored our approach to meet the needs of large retailers and to displace foreign supply, so it's great to see a retailer like Farm Boy get excited about what we're doing," said Mr. Lomow. "Grocers are looking for secure, short and affordable supply chains they can trust. But, at the end of the day, it's about the quality and freshness of the product for consumers, and ours is hard to beat."
Farm Boy will carry the company's no-need-to-wash, ready-to-eat, "Northern Crunch" and "Ontario Sweets" lettuce mixes starting with 16 stores in Ottawa, Kingston and Cornwall.
About Fieldless Farms
Fieldless Farms is a Canadian controlled environment agriculture company with farming operations in Cornwall and offices in Ottawa. The company helps communities reclaim their food chains with safe, reliable, delicious produce, all year long.
About Farm Boy
Farm Boy operates a chain on grocery stores in Ontario that feature farm-fresh produce, organic, natural and locally sourced foods, along with a full selection of premium meats, artisan cheese, sustainable seafood and private label brands as well as their popular fresh prepared meals, made from scratch in the Farm Boy Kitchen. The Farm Boy in Cornwall – the original store in the chain – is located at 814 Sydney Street and is open 7 days a week.