Finding Balance in Cornwall's Downtown
July 2, 2020
Cornwall Ontario -The culmination of a great deal of hard work and determination happened for Alexandra Nurse today as she opened her new business, Balanced Massage Therapy.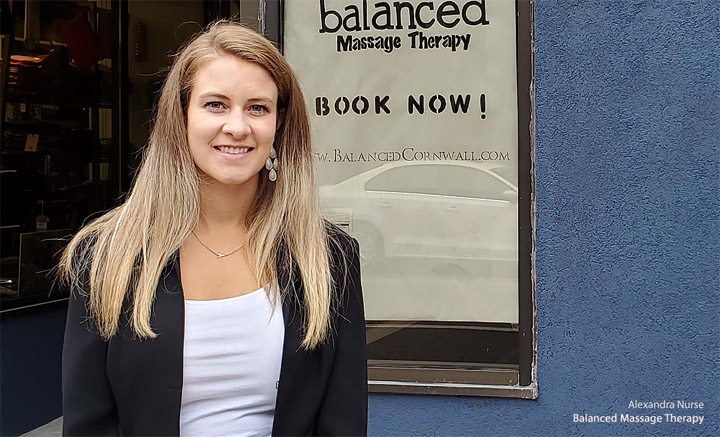 Ms. Nurse comes from a family of independent business owners and has always known that she would one day like to start her own. As a Registered Massage Therapist (RMT) she jumped at the opportunity to open Balanced Massage Therapy in the heart of downtown Cornwall. Having grown up in Cornwall she couldn't think of a better place to start.
Balanced Massage Therapy offers therapeutic massage treatments including deep tissue, relaxation, cupping, RAPID, as well as pre and post-natal massage.
"At Balanced Massage Therapy we strive to work with you to improve your health and sense of well-being. We want to help you reach your health goals," explained Ms. Nurse. "We also offer extended hours to allow clients to access our services around their busy schedules."
Despite the current events of COVID-19, Ms. Nurse isn't derailed at all. "If anything, it's making me more excited to go back to work doing what I love to do. I couldn't wait to open up in my new space," stated Ms. Nurse.
With her positive attitude, it's no wonder the business' philosophy is to welcome new challenges every day with the intent to provide the best comprehensive service to each of her clients.
Ms. Nurse understands the therapeutic effects that massage therapy has on the body and wants to help optimize the health and well-being of her clients by focusing on the muscular, nervous and circulatory systems. Through the assessment and treatment, she will focus on improving, rehabilitating and maintaining physical function. Bringing more balance to Downtown Cornwall.
Balanced Massage Therapy is comprised of 1,000 square feet of office space with three treatment rooms, a reception area, and wheelchair accessible washrooms. For the time being Balanced Massage Therapy will be run by Ms. Nurse and her receptionist.
Balanced Massage Therapy has received funding from the Heart of the City campaign to help with the revitalization of the space, hoping to make it welcoming for all of her clients. You can find them in Downtown Cornwall at 145 Pitt Street, beside The Kingslea.
Hours of Operation
Monday 9am – 5pm
Tuesday 12 noon – 8:30pm
Wednesday 12 noon – 8:30pm
Thursday 9am – 5pm
Friday 9am – 5pm
Saturday 10am – 2pm
About Balanced Massage Therapy
To book an appointment with Balanced Massage Therapy or to learn more, head over to their website and check out their Facebook, and Instagram pages: