Fines Home Hardware and Building Centre Opens New Store
March 8, 2021
Cornwall Ontario – Consumers in Cornwall now have a new hardware store and lumber yard to help them tackle home renovation projects.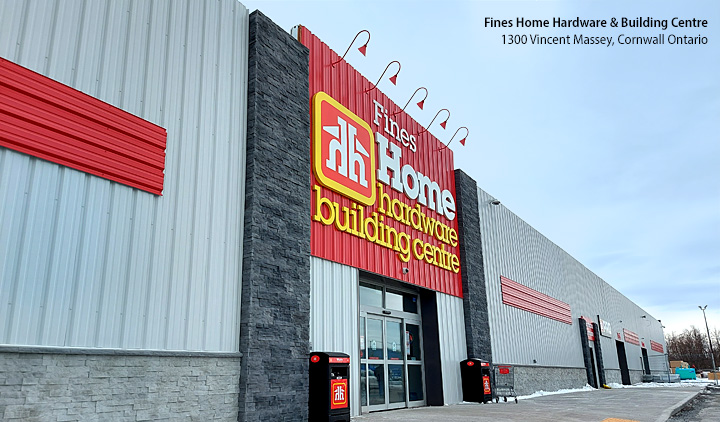 Fines Home Hardware and Building Centre is now open at the corner of Vincent Massey Drive and Brookdale Avenue.
"We travelled to Cornwall just over 5 years ago and fell in love with the town and community," says Scott Fines. "We are honoured to be accepted into the community and thank each and every one of our customers for their support, which has allowed us to continue to grow our business and our dream."
At 30,000 square feet, the new retail store is well over double the floor space of the previous store, offering a substantial larger selection of hardware, building tools, and home decor. The new location also comes with a 30,000 square foot indoor lumber yard, with an additional 3 acres of outside storage for building materials. Delivery service is available.
All told, the new store will carry over 4 times the value of inventory as the previous store.
"We expect continuing high demand for building projects as people continue to improve their homes – inside and out." says Mr. Fines. "Home Hardware is 100% Canadian owned, and we have relationships with Canadian lumber mills which helps us to source products and manage supply challenges."
Fines Home Hardware and Building Centre is truly a family affair, with  Scott and his wife Amanda joined in day-to-day operations by Scott's parents, Murray and Andrea Fines. The Fines family is extended to include a dedicated staff that is focused on customer services. The company is expected to employ up to 70 full and part-time staff members by summer.
Additional Info
Store hours of operation are Monday-Friday 7am-5pm, and Saturday-Sunday 9am-5pm.
The store is located at 1300 Vincent Massey Drive and can be reached at (613) 932-3225.
March is considered the 'soft opening' of the store, with more features and products on the way.
There is a separate contractors entrance.
There is a customer service counter, four checkouts and the store is wheelchair accessible.
Follow the local store on Facebook: https://www.facebook.com/hhcornwall
About Home Hardware
Home Hardware Stores Limited is Canada's largest Dealer-owned hardware, lumber, building materials, and furniture home improvement retailer with over 1,050 stores under the Home Hardware, Home Building Centre, Home Hardware Building Centre and Home Furniture banners. Founded in 1964 in rural St. Jacobs, Ontario, Home Hardware remains 100% Canadian owned and operated. Through the Home Hardware network, Dealer-Owners have extensive distribution and marketing capabilities as well as access to thousands of quality, brand name and private label products. Home Hardware Stores Limited has received designation as one of Canada's Best Brands and Best Managed Companies and is committed to helping Canadians with all of their project needs.