First Starter Company Business Moves Into Storefront
July 13, 2018
Cornwall Ontario – It's been a big week for Matt Coleman.  Just a few years after launching his business from the basement of his home, he has opened a storefront location in Downtown Cornwall.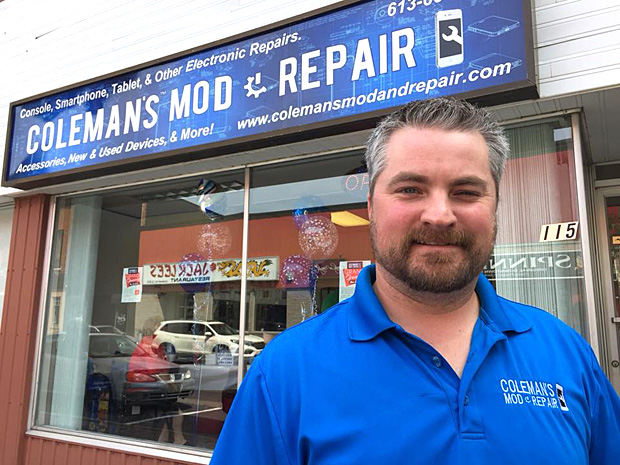 Coleman's Mod & Repair is located at 115 Pitt Street and offers a repair service for the devices that have become so important in everyone's life. Drop your smartphone and crack the screen? Don't worry, Matt can help.
"I do my best to offer excellent customer service at a reasonable price", said Mr. Coleman.  "Using top of the line equipment, and drawing upon hundreds of hours of experience, I make sure the job is done right.  Most of us simply cannot spend a week without our devices, so I do my best to complete repairs in a reasonable amount of time, sometimes within a day."
Coleman's Mod & Repair handles various repairs to most smart phones including Apple, Samsung, Blackberry, HTC, Nokia and more.
"As long as we can get the parts, we can fix it," says Mr. Coleman with a laugh.
Mr. Coleman can also provide virus removal services, operating system upgrades and water damage repairs for MacBooks.  Video Game consoles are also a specialty, including older generation consoles from Nintendo, Xbox, Playstation and even Atari.  Other services include repairs to car starters, USB cables for X-ray machines, guns for shockwave therapy and GPS units.
The move to a downtown, high-profile location is a big step for the young company.
"It's very exciting," said Mr. Colmean as he stood at the counter in the new store.  "The Starter Company program helped me move from the basement to converting our garage into a workshop.  That gave us a much more professional profile and allowed us the opportunity to grow even more.  And here I am today taking another step foreward with a great storefront with dedicated space for retail sales and repairs."
As the very first Cornwall area participant in the Starter Company Program, Mr. Coleman was able to access assistance from the Cornwall Business Enterprise Centre which included training to write a business plan, organize his marketing, and create some cash flow projections.
"Coleman's Mod & Repair has grown by leaps and bounds to where it is today," said Candy Pollard, Business Consultant with the Cornwall Business Enterprise Centre.  "We are extremely proud to have assisted him in his growth. The Starter Company program has helped 40 new businesses in the past 3 years and we look forward to helping other entrepreneurs succeed."
Coleman's Mod & Repair is open Tuesday to Thursday from 9am to 6pm, Friday from 9am to 5pm 9-5 and Saturday from 9am to 1pm.
You can reach Coleman's Mod & Repair at 613-662-3905 or online at
About Starter Company PLUS
The Starter Company Program has now evolved into the Starter Company PLUS program, which provides successful applicants with unparalleled assistance to start, grow or buy a small business. Assistance includes training, business skills development, mentoring from local business leaders and all-important access to capital. The program is open to residents of Cornwall, SD&G and Akwesasne who have finished school and are 18 years of age and older.
To learn more about starting your own business, check out the services of the Cornwall Business Enterprise Centre: