Food Cycle Science Receives Investment from FedDev Ontario
January 23, 2019
Cornwall Ontario – A clean environment and a strong economy go hand in hand. The Government of Canada is investing in Food Cycle Science, which provides an eco-friendly solution to divert food waste from landfills.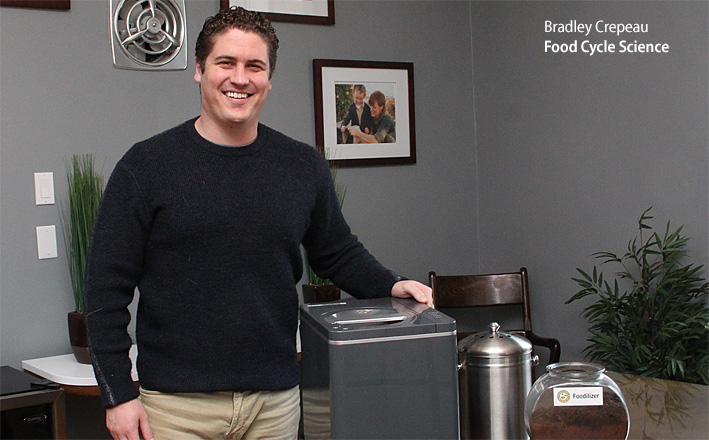 "Investments such as the one we are celebrating today are supporting Canada's transition to a greener economy," says the Honourable Navdeep Bains, Minister of Innovation, Science and Economic Development and Minister responsible for the Federal Economic Development Agency for Southern Ontario. "By investing in innovative companies, such as Food Cycle Science, we are supporting companies that are ready to expand and compete globally, without compromising sustainability, which will pave the way to economic growth, jobs and opportunities in the long term."
The $225,000 investment will help Food Cycle Science scale up and further commercialize its FoodCycler —a composting unit that reduces kitchen food waste by up to 90 percent by transforming it into a nutrient-rich soil fertilizer. The FoodCycler  is lightweight, odourless and compact, and can be used anywhere in the home or office.
"Through the commitment of angel investors and the support of the Government of Canada, Food Cycle Science has been able to commit to a global mindset in its growth strategy for the future," says Bradley Crepeau, CEO of Food Cycle Science. "I believe that we are well positioned to compete internationally and reshape how consumers and businesses approach the growing food waste problem."
FedDev Ontario's repayable contribution of up to $225,000 has leveraged funding through a group of angel investors who are members of the Capital Angels Network and the Southeastern Ontario Angel Network, as well as the Cornwall and the Counties Community Futures Development Corporation (CFDC). The FedDev Ontario funding will create up to three additional full-time jobs and allow Food Cycle Science to expand marketing activities to sell its innovative on-site waste disposal technology in new markets.
This investment in Food Cycle Science's environmentally-responsible technology allows the company to divert food waste from landfills and reduce greenhouse gas emissions, which contributes to a healthier environment for Canadians. The Government of Canada has set aside more than $2.3 billion to boost the growth of Canada's clean tech space, which is the largest public investment ever committed to this field in Canada. FedDev Ontario is now accepting new projects, using a single application form, through three simplified funding streams that have been designed to meet the needs of innovators and job creators. For more information, visit www.FedDevOntario.gc.ca.
About Food Cycle Science
Food Cycle Science is the result of two visionary entrepreneurs who decided to introduce green technology to the growing problem of methane emissions caused by the abundance of food waste going to landfills. The result is the FoodCycler, a eco-friendly machine that can reduce kitchen scraps to a nutrient-rich soil mixture in as little as 3 hours. The company is headquartered in Downtown Cornwall.
Categorised in: Business, Environment, General, News