Girls Hockey Tourney Skates Into Cornwall
October 28, 2022
Cornwall Ontario – It's going to be a big hockey weekend in Cornwall with the return of the Cornwall Girls Hockey Association's annual Competitive Tournament.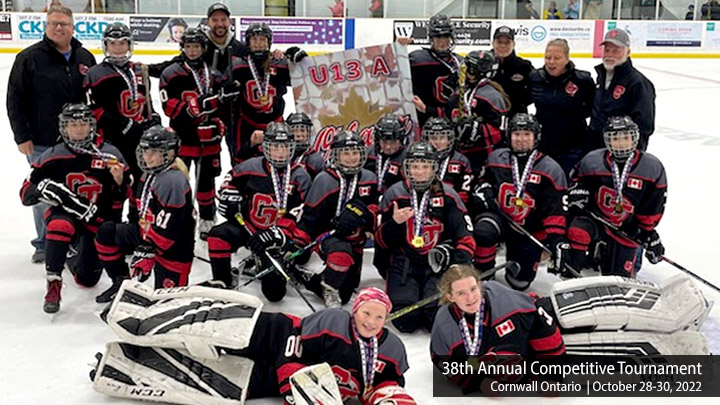 A fixture on the local sporting events calendar, the CGHA Competitive Tournament will see 51 teams competing over three days – Friday to Sunday – on all three ice pads at the Benson Centre as well as the Cornwall Civic Complex and Long Sault Arena.
"It's a great weekend for Cornwall and it's a great way to introduce people to our city," said Mike Turcotte, President of the Cornwall Girls Hockey Association.
The tournament will feature play in a range of divisions from U-9 to U-18 with teams visiting from across Ontario, Quebec and the United States. Some will come from as far as Thunder Bay.
"All of the accommodations (in the city) are pretty much full," Turcotte added. "It's great for the local economy. Everybody's from out of town so they're staying in hotels and visiting the restaurants. During the tournament weekend, it's hard to get a table (at some places). Everything is packed."
This year's tournament will mark the 38th edition of the event, and it's the first of two major tournaments on the CGHA calendar. It will be followed by the annual CGHA House League Tournament which will run from November 11th to 13th. The House League Tournament is expected to draw upwards of 60 teams to Cornwall.
About the Cornwall Girls Hockey Association
The Cornwall Girls Hockey Association has welcomed thousands of players to the ice over the years, with several dozen alumni moving on to the NCAA, Canadian university and professional ranks. The most notable alumni is Team Canada Olympic gold medallist and three-time world champion Lori Dupuis.
For more information on the organization, please check out the CGHA website.
More Events
There's lots of other fun events going on in Cornwall and area this Fall. Find out about these and other events by visiting the Cornwall Tourism Events Calendar!