Hand Soldering Program to be Offered in January
October 9, 2019
Cornwall Ontario  – Looking for a career in contract electronics manufacturing?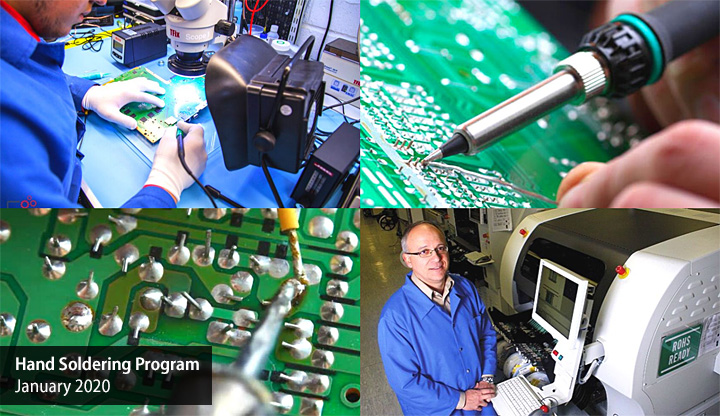 The Eastern Ontario Training Board, in partnership with St. Lawrence College and SigmaPoint will be offing a Hand Soldering program, scheduled to begin in January 2020.
"The objective of the program is to provide people with real-world skills and experience that will lead to long-term employment," says Kimberley Hickey, Operations Manager at Eastern Ontario Training Board. "SigmaPoint is a world class manufacturer whose growth has resulted in an ongoing need of hand solderers."
The training program will run for 8 weeks, with the first 3 weeks consisting of full-time days Monday to Friday at the Cornwall Campus of St. Lawrence College. During this time participants will work on developing their computer skills, employability skills and participate in some certifications (Mental Health First Aid and Night Shift Wellness). Following this initial training period,  participants will be split into 2 groups and will attend hands on training at SigmaPoint for 4 hours per day for the next 5 weeks.
EOTB will assist participants of the program in securing employment after the training – whether it be with SigmaPoint or elsewhere and will provide the employer a wage subsidy. Funds are available to assist participants with daycare and transportation while in training, and accommodations for the workplace, as needed and as funds are available.
To be eligible for paid tuition candidates must:
Experience a self-identified disability
Not be eligible for Employment Insurance (now or in the last 5 years)
Be a Canadian Citizen, Permanent Resident or Refugee
Resident of SDG and Akwesasne (Ontario)
There are other suitability indicators which will be assessed due to the nature of the job – such as good hand/eye coordination, manual dexterity and steady hand, candidates must be willing and able to work evening and overnight shifts.
Interested applications are invited to contact Job Zone d'emploi for more information. Please call 613-933-9675.
About the Eastern Ontario Training Board
The Eastern Ontario Training Board (EOTB) was established to play a leading role in labour force development. It undertakes a number of projects throughout the year, and publishes the TOP report on local labour force issues. More info can be found online:
About St. Lawrence College
Located along the shores of the St. Lawrence River, St. Lawrence has College has three campuses in Cornwall,  Brockville and Kingston. The College boasts 6,500 full-time students from Canada, and more than 40 countries worldwide. The SLC college community includes 20,000 part-time students, 1,000 staff, and more than 70,000 alumni. The college has recently invested in the development of Applied Research and the revitalization of its campuses.
You can find out more information on the St. Lawrence College website: