Hands-free mooring now fully deployed at Seaway locks
October 22, 2019
Cornwall Ontario – Hands-free mooring technology, which uses vacuum pads instead of lines to hold ships in place as they transit locks, is now fully deployed throughout the St. Lawrence Seaway.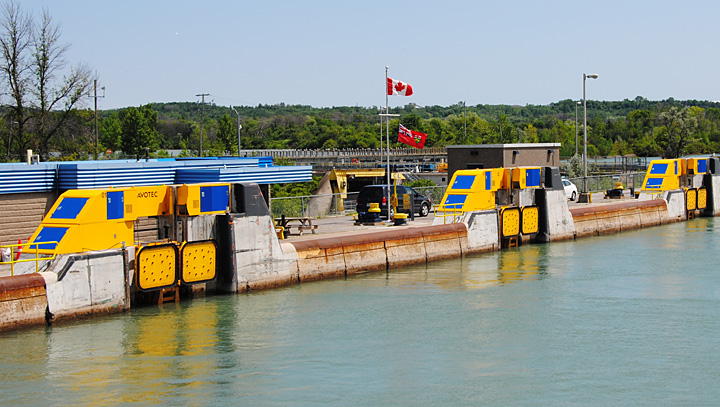 The new technology has been hailed as the most important technological advance on the Seaway since it opened in 1959. Earlier this year, the Seaway celebrated 60 years of service, marked with celebrations on both Canadian and USA sides.
Hands-free mooring enhances safety and helps shippers achieve greater efficiencies on the U.S.-Canadian waterway.
Once a ship enters and stops within a lock chamber, each hands free mooring (HFM) unit extends from the lock wall to vertically position and attach its double-pads to a smooth area on a hull's surface. Once attached, vacuum suction is used to create a grip that enables the HFM units to keep a vessel secure. The HFM units adjust to the rising or falling water level within the lock by gliding up or down on track rails that are recessed within the lock's concrete wall. After the vessel has been raised or lowered, the vacuum suction is released, the pads retract, and the vessel is soon on its way.
The St. Lawrence Seaway System is  part of a "marine highway" that extends some 3,700 km from the Atlantic Ocean to the Great Lakes. Beginning in Montreal and extending to points west, the Seaway's 15 locks (13 Canadian and 2 American) enable ships to climb a total of 168 metres from "sea level" up to Lake Erie.
Two of these locks, the Snell Lock and Eisenhower Lock, are in the immediate Cornwall area. The installation of hands-free mooring at these two locks represented an investment of $23 million.
St. Lawrence Seaway Management Corporation began developing and testing the HFM technology in 2007 for use within the Seaway's locks. Installation on Canadian locks began in 2015.
Andrew Bogora, SLSMC spokesman, said nine to 12 ships typically navigate each Seaway lock per day. Given that 13 locks are equipped with hands-free mooring, "We can estimate (the system) processes between 117 and 156 lock transits per day," he said. The Iroquois Lock and Welland Canal Lock 8 are "low lift" locks and are not equipped with the technology.
Mr. Bogora said hands-free mooring can reduce lock transits by up to seven minutes, with the potential for time savings varying per lock.