High School Students to Compete Head to Head in Skills Showdown
February 22, 2019
Cornwall Ontario –  Over 240 students are hard at work preparing for the Eastern Ontario Secondary School Skills Competition at St. Lawrence College.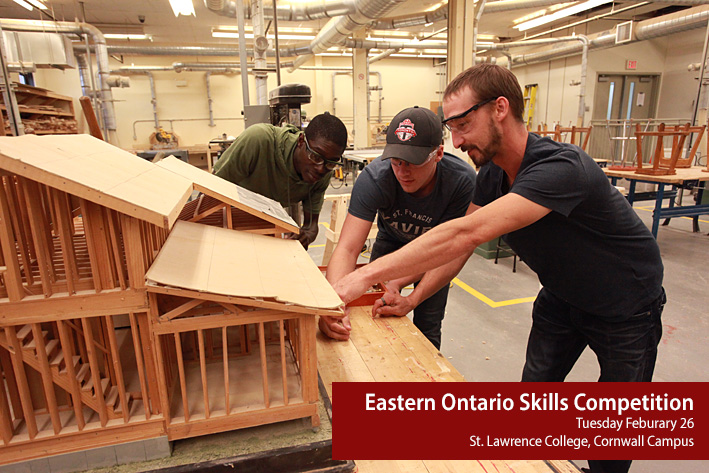 The event takes place from 9:00am to 3:00pm on Tuesday, February 26 at the Cornwall Campus.
Students from the Upper Canada District  School Board and the Catholic District School Board of Eastern Ontario will be joined by students from L'Heritage Secondary School to compete in various competitions such as Automotive, Welding, Carpentry, Photography, Theatre, Environmental and Aesthetics…to name just a few.  There are a number of new topics this year, including 3D Animation and Robotics.
"This marks the 12th year we have hosted this event and it continues to be a great success, says Laurie Marquette-Brown, Instructor at the College Campus. "There will be 18 different competition areas in various spaces and classrooms across the Cornwall Campus and four Campus competitions at different locations in our Cornwall community."
Each year, the competition has attracted over 500 visitors including over 250 competitors, judges, families and friends. The annual competition allows students to demonstrate their talent and creativity putting all of their skills to the test against peers and the current industry standards. Students are given specific tasks to perform, or scenarios to complete, within a predetermined time frame that will be judged by industry specialists.
"This is a tremendous opportunity to showcase our programs, faculty and students to a large number of visitors who might otherwise not be aware of the opportunities that exist within our college," says Eileen De Courcy, Senior Vice President Academic
The event is running at a time of relative quiet on the College Campus (the week of winter break) however a number of  SLC trades students are expected to help with the event.
Students, educators, industry and the general public are welcome to attend the competition as spectators.
Competition winners will have the opportunity to advance to the qualifying competition held at St. Lawrence College's Kingston campus on April 6 as well as the provincial competition in Toronto in May.
About St. Lawrence College
Located along the shores of the St. Lawrence River, St. Lawrence has College has three campuses in Brockville, Cornwall and Kingston. The College boasts 6,500 full-time students from Canada, and more than 40 countries worldwide. The SLC college community includes 20,000 part-time students, 1,000 staff, and more than 70,000 alumni. The college has recently invested in the development of Applied Research and the revitalization of its campuses.
You can find out more information on the St. Lawrence College website:
St. Lawrence College is also featured in the new edition of Cornwall Living magazine. You can order your complimentary copy by clicking here.